Exclusive
Michael Lohan In, Frank Sorrentino Out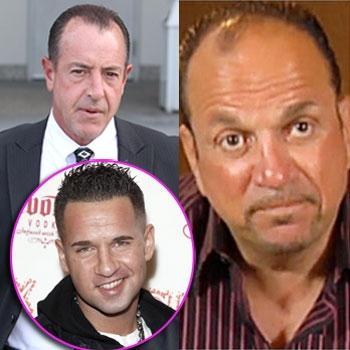 RadarOnline.com Staff Reporter
Frank Sorrentino is one celebrity dad whose crazy antics are just too much to handle.
Frank, father of Jersey Shore's Mike "The Situation" Sorrentino, has labeled himself "The Confrontation" -- with his first target being celeb super-father Michael Lohan.
Lohan is fighting in a Celebrity Boxing match this weekend and Frank was supposed to be the guest referee, but RadarOnline.com has exclusively learned the beef between the two dads became so intense that Frank was given the boot!
Article continues below advertisement
"I didn't feel comfortable having Frank come into the match. He's just way too much drama," Celebrity Boxing founder Damon Feldman told RadarOnline.com.
"I just don't like the guy and want nothing to do with him!"
The feud between Frank and Lohan was fueled by a profanity-filled video message Frank posted online in which he challenged Lohan to an all out war.
"Hey Mike, let me send you a f**kin' message so you get this f**kin' loud and clear, okay? You should be careful what you ask for because you may get it," Frank said in the video.
"I don't know who the f**k you think you're talking to or who the f**k you think you are, but I'll tell you one thing my friend...you bit off more than you can chew."
But Lohan told RadarOnline.com he never wanted any confrontation with Frank and just wanted to fight his boxing match without the drama.
"Frank is out of his mind and is making enemies with the wrong people," Feldman said.
RadarOnline.com has learned former NFL great Michael Irvin and Saved By The Bell's Dustin Diamond are in the running to fill in as guest ref for the match.