The Situation Confirms Radar's Scoop, Undergoing Rehab For Prescription Pill Addiction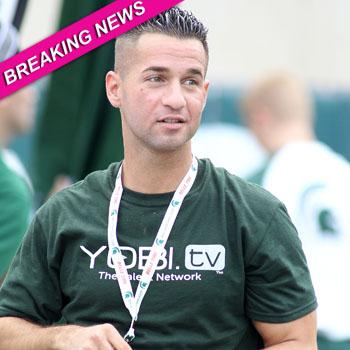 By Jen Heger - Assistant Managing Editor of Radar
Jersey Shore star, Mike "The Situation" Sorrentino has confirmed RadarOnline.com's exclusive story that he has a prescription pill addiction.
The reality star issued a statement on his website Wednesday confirming the report. "I want to set the record straight. I have voluntarily taken steps to get control of a prescription medication problem I had due to exhaustion. I have spent the past several weeks getting treatment for this problem and recuperating from my work and appearance schedule. I appreciate my fans support and love you guys," he wrote.
Article continues below advertisement
"Mike had become dependent on prescription pills to counter-act his hard partying lifestyle, which included illegal substances," an insider told RadarOnline.com. "He was in a vicious cycle of not sleeping because of the drugs he was taking, so he began using prescription pills to help him sleep. Mike would refer to the prescriptions pills as 'downers.' The good news is that he was the one that wanted to get help and checked into rehab. Hopefully with the proper treatment, Mike will be able to lead a sober life."
As RadarOnline.com previously reported, MTV announced Monday that the hit reality show will be returning for a sixth season, with all the major cast members signed on. "It's unclear right now if Mike will be part of the cast when filming resumes this summer, he has told people he absolutely wants to do it, but it's just too soon to be able to say definitively if he will be at the shore this summer," the source says.
Article continues below advertisement
The message on his website goes on to say, "it is important for us, and for The Situation, to let our fans know the truth behind what is actually going on, and getting treatment is something Mike has done on his own volition. We appreciate your continued support and well wishes for Mike as he gets the treatment he needs."
As previously reported, this is the Sitch's second rehab stint, according to his dad. "For me, after years of dealing with his addiction, years of dealing with all the bullsh*t, this wasn't a 16-year-old kid. The guy was a 27-year-old man. I was just hoping he would be able to stand up," he said about his son's previous treatment.