Exclusive
RHOBH Star Kyle Richards On If She Wants A Season 3: 'Sometimes Yes, Sometimes No'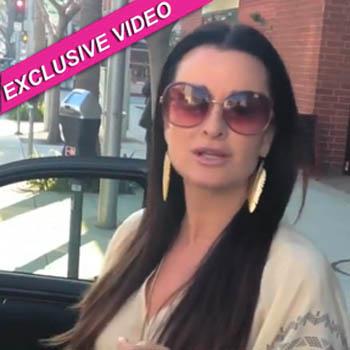 Article continues below advertisement
"I don't even know if it's coming back! So…I mean, one would assume because our ratings are very high, but they haven't made an announcement. So I don't know either," Kyle said.
When asked whether she wanted to return for a third season, the 43-year-old replied, "Sometimes yes, sometimes no. There's fun times, but it's also very difficult so all of us right now are just taking the time to figure out if we want to do it or not."
Her sister, Kim Richards, caused headlines on the last season when she frequently appeared to be "out of it" and eventually checked into a rehab treatment facility.
Kim admitted on the show to taking a cocktail of prescription pills, including Lexapro, Trazadone and Topamax but since her release from rehab has appeared much healthier.
"I think she actually said that she would want to, because she's feeling good," Kyle said of her sister Kim appearing on the show again.
Article continues below advertisement
"She's feeling strong, so I think she actually would."
On an unrelated note, Rihanna was photographed spending time at Ashton Kutcher's home in the wee hours of Wednesday morning and Kyle is not a fan of the blooming relationship.
"You know what, it bothers me to see him with anybody except Demi Moore…not just because people think she's my doppelganger," she joked.
"Because I think it's sad that they split up and I don't want to hear about anybody but his wife."