Exclusive
Gabriel Aubry To Halle Berry: Take Me To Court Again Over 'Baseless' Claims & I WILL Sue!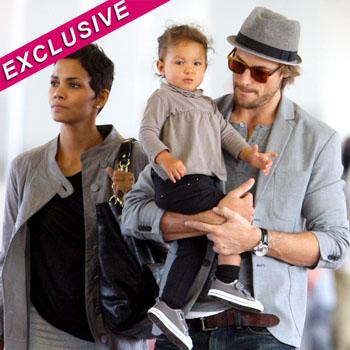 By Jen Heger - RadarOnline.com Legal Editor
Gabriel Aubry feels fully vindicated after the abuse allegations that his ex-girlfriend, and baby mama, Halle Berry, made were dismissed, and has made it known that if he is hauled into court again over unfounded claims, he will sue, RadarOnline.com is exclusively reporting.
As previously reported, the Department of Children & Family Services found no basis to the claims that Aubry has ever physically, or emotionally abused the warring couple's daughter, Nahla. The case was officially closed Thursday, and Gabe will no longer be required to have monitored visitation with his daughter.
Article continues below advertisement
The Canadian born model has been embroiled in a bitter custody battle with Berry and things ramped up a notch last January when the couple's nanny alleged Aubry pushed her while she was holding Nahla, a claim he has vehemently denied. A criminal investigation was launched, but the Los Angeles City Attorney declined to press charges because of a lack of evidence.
Having now been subjected to a criminal investigation and the scrutiny of social workers, Gabe is telling friends that if Halle hauls him into court again without a justified reason he will take legal action against her.
"If he gets dragged in again over baseless claims, that are found to be unsubstantiated and lacking evidence, he will sue her," a source close to the situation tells RadarOnline.com. "Gabe has had enough and is extremely frustrated with Halle. All of the proceedings in their custody case are sealed but if he were to file a lawsuit against her it would be made public. Gabe has had to jump through hoops because of Halle's accusations when he takes care of Nahla, and NONE of it has been found to have any merit."
Article continues below advertisement
As RadarOnline.com previously reported, Gabriel is also considering writing a tell-all book about his tumultuous relationship with Halle.
"Gabe's friends want the world to know the real Halle Berry. However, Gabriel has had many offers to write books and give interviews in exchange for a big payday, but he has turned them all down. One day, Nahla is going to be old enough to understand what was going on between her parents, and he wants to be able to look his daughter in the eye and say everything he has done has been for her," an insider says. "Writing a book would be a great way to get back at Halle but what would that get him? Gabe always thinks of his daughter when making any decision. Halle should count her lucky stars that her ex is being a gentleman, especially under these circumstances.
Nahla Has A Swinging Good Time With Dad Gabriel Aubry