DUI Millionaire Manslaughter Trial: Defendant Claims, 'I Didn't See Car Coming' After Drinking Tequila And Vodka Shots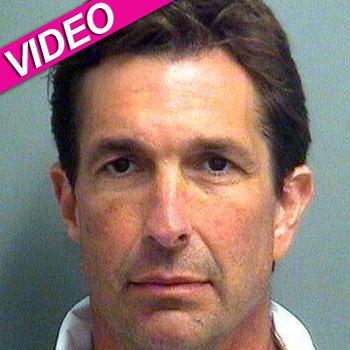 Article continues below advertisement
Goodman's bar tab shows at least 10 tequilas and numerous other drinks were purchased, which he claims he bought for friends. The prosecution allege that Goodman also drank potent Mind Erasers and Irish Car Bombs before the collision
As RadarOnline.com previously reported, the business tycoon adopted longtime girlfriend, Heather Laruso Hutchins, 42, as his daughter in a Miami-Dade County court following his DUI arrest, which is seen by many as an illicit move to protect his $300 million fortune in preparation for a wrongful death civil lawsuit brought against him by the parents of Scott Wilson who was killed when Goodman ran a stop sign and hit his car while driving twice over the legal limit, pushing it into a canal where the victim later drowned.
Goodman testified Wednesday that he tried to press the brakes of his mammoth 5,600 pound black Bentley but they didn't seem to be working properly so he took his foot off the pedal. Then, after the crash he was too dazed and confused to realize that he had pushed Wilson into a watery grave.
"If you knew someone was in the canal, what would you have done?" prosecutor Ellen Roberts asked the defendant, to which he replied: "I would have done whatever I could have done to help."
Article continues below advertisement
Later he said, "I didn't see anything... I did the best job I could trying to line up what I'd hit.
"I looked around and didn't see what I had hit.... I had a broken wrist and a fractured chest, my back was horrible, and I had a head injury. I was in pain," testified Goodman.
Instead of calling 911, he went to his friend Kris Kampsen's nearby barn that housed a "man cave," where he claims he found a bottle of liquor, "And I proceeded to drink it down," to alleviate excruciating pain from his injuries, while Wilson remained strapped inside his Hyundai upside down in the canal.
Goodman finally borrowed a cell phone from a women living in a trailer, and only after calling his girlfriend did he then alert emergency services, and he told the dispatcher that he wasn't hurt. "I guess I was starting to focus more on what the big picture was than on myself," he claimed.
Earlier during Wednesday's proceedings, jurors heard engineer Luka Serdar testify that there were several error codes on the computer system in Goodman's Bentley at the time of the crash, which was aimed to back up defense attorney Roy Black's argument that a vehicular malfunction caused his client to run the stop sign.
Article continues below advertisement
Prosecutors called their own expert, Tom Livernois, who said the damage to the engine throttle that would have caused the error codes Serdar noticed happened during the crash not before, adding that there was no way the car suddenly accelerated.
Closing arguments are expected Thursday or Friday, after which the jury will decide whether they send Goodman to prison for up to 30 years.
Watch video coverage of the trial from ABC below: