Exclusive
Bobby Brown Wanted Child Support From Whitney, Claimed 'Wonderful Relationship' With Bobbi Kristina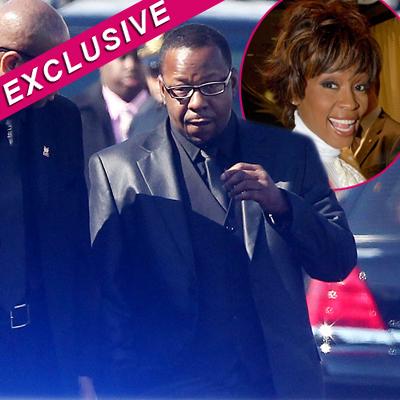 Article continues below advertisement
As we previously reported, Houston died February 11 at the Beverly Hilton at age of 48.
During their divorce, Bobby Brown submitted a sworn declaration lamenting that Whitney was attempting to cut him out of their daughter's life by moving to California without his knowledge.
"On or about July of 2006, Whitney took Bobbi Kris without my prior knowledge of consent, and moved to Orange County, California where Whitney received treatment for her drug addiction," Brown claimed. "Whitney's unilateral decision to move to California had a detrimental impact on me in various ways. First and foremost, Whitney's action interfered with my ability to spend time with my daughter. Second, Whitney's move to Orange County forced me to spend what little money I had left in order to see my daughter. I traveled to California to be with Bobbi Kris and Whitney as much as I could."
The bad boy singer said that he, not Whitney, was Bobbi Kristina's primary caretaker. "I believe that I have a wonderful relationship with my daughter Bobbi Kris -- a relationship that I would like to see strengthen and grow. When we were living in Atlanta, I was the primary caretaker for Bobbi Kris," Brown stated. "At the time, we lived together as a family and did everything together. I would pick Bobbi Kris from school, attend school functions and activities...in sum, we did what fathers and daughters do together. We enjoyed each other's company."
Article continues below advertisement
Brown was attempting to be awarded spousal or child support, even though the judge had already given sole custody to Whitney. The former couple also had a prenuptial agreement which stated, "Brown agrees that Houston shall have no legal obligation to support him, and that he shall have no right to require the payment of any alimony, support (including temporary support), or other maintenance, and no right to receive any rights, interests, or claims to Houston's property, and Brown hereby waives releases, and forever renounces any and all such rights to the fullest extent permitted by law."
However, Brown maintained that he didn't have a copy of the pre-nup and wasn't aware that he wasn't entitled to spousal support. "Whitney claims that our prenuptial agreement precludes an award of spousal support. I do not have a copy of or prenuptial agreement and have not been able to supply that agreement to my attorneys. Whitney has not provided a copy to me. I do not believe that Whitney has supplied a proper, certified and complete copy of the agreement to the court," he said.
Article continues below advertisement
However, Houston did present the certified original prenuptial agreement to the court. Whitney maintains in her sworn declaration: "I also believe that Bobby is going to try to get child or spousal support from me, something he has done for some time now, along with his request for spousal support. As for the child support, Bobby is fully capable of working and earning substantial sums of money if he would control his personal behavior."