Playful Polar Bear Cub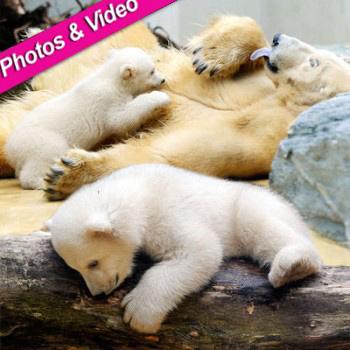 By Debbie Emery - RadarOnline.com Reporter
Anori the polar bear cub is ready for her close-up!
At just two months old, the little bundle of white fur didn't seem phased by the adoring crowd and the flashing cameras when she made her debut at the Wuppertal Zoo in Germany, and RadarOnline.com has video of her first day out.
Born on January 4, Anori was excited to finally brave the world this week as she padded around the outdoor pen while her mother, Vilma, carefully watched on. The momma bear is wise to worry about her young daughter, after her littermate died at just a week old, reported the Telegraph.co.uk.
Article continues below advertisement
Anori comes from a prestigious polar bear heritage as her father, Lars, was also dad to the world-famous polar bear Knut, who captured hearts in Germany and around the world after his mother rejected him as a newborn and he was hand-reared by zookeepers. After drawing thousands of fans to the Berlin Zoo, Knut tragically died in March 2011 after suffering an epileptic seizure at age four.
Luckily Anori has much better chances of survival to adulthood because of Vilma's strong motherly instinct.