Oh Baby! Tiny Hippo Takes His First Big Steps Out At The Berlin Zoo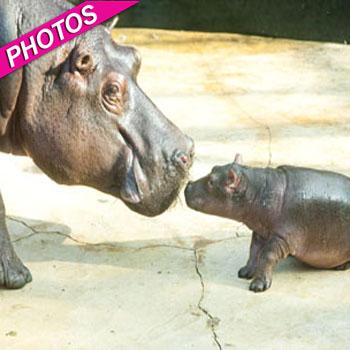 The bigger the baby, the louder the "awww!"
The Berlin Zoological Garden in Germany is celebrating the birth of a bouncing new baby after Nicole the Hippo welcomed her new son last week, and RadarOnline.com has adorable photos of the newborn during his debut.
The beautiful brown-eyed baby hippopotamus fluttered his long eye lashes at zoo guests on Tuesday when he was was first presented to the public.
Article continues below advertisement
At just a week old, the as-yet unnamed hippo stuck close to his mother's side as she nuzzled him with her huge head and kissed him delicately on the snout.
Later in the day, the eight-day-old went splashing around in the pool with Nicole for his first swim lesson, paddling as fast has his little legs would take him to keep up with his huge parent.
After a busy afternoon in the great outdoors, the little guy took a much-needed nap next to his mother and snuggled tightly up against her tough-skinned face, which is as big as his whole body, as onlookers gushed in awe.
Along with the hippo family, the Berlin Zoological Garden is home to around 17,000 animals from 1,500 species, and is the most visited zoo in Europe, attracting over three million tourists in 2010, reported Travel.aol.co.uk.
The zoo was famously once home to another adorable baby which garnered worldwide attention — Knut the polar bear.
Knut, who became a global media sensation as a cub after being rejected by his mother and reared by hand, died suddenly from brain problems back in March.
Article continues below advertisement