Nicollette Sheridan Could Take Stand Tuesday In Desperate Housewives Lawsuit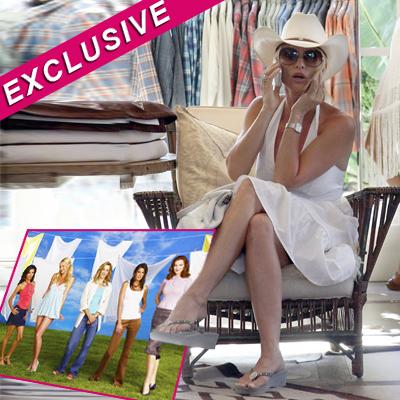 Article continues below advertisement
Jury selection began on Monday and is expected to continue in the morning session. After both sides present their opening statements, Sheridan could be among the first witnesses to take the stand. Sheridan's lawyers expect their client to be on the stand for approximately eight hours.
As RadarOnline.com previously reported, Sheridan filed the lawsuit after her popular character, Edie Britt, was killed off the show, abruptly, she claims.
The actress alleges that Cherry hit her with an open hand during rehearsals in 2008 after having a heated argument about the script. Cherry denies ever striking Sheridan and said in a sworn declaration: "I did not tap, hit, or otherwise touch Sheridan because she is a woman. I also never made any rude or disparaging remarks about her gender. I have never treated Sheridan any differently than any other individual associated with the show because she is a woman."
Article continues below advertisement
Desperate Housewives cast members are on ABC & Cherry's witness list, including Marcia Cross, Teri Hatcher, Eva Longoria, and Felicity Huffman. Cherry is also expected to take the stand in his defense. Among Sheridan's planned witnesses are the former ABC president, a former ABC studio executive, and several former producers of the show.
PHOTO: Eva Longoria Removes 'Wedding Date' Tattoo
The trial is expected to last eleven days and the judge ruled that the Sheridan will only be able to attempt to reclaim one year's salary, $4 million, and not compensation for the show's full run. The jury doesn't need to come to a unanimous verdict because this is civil court.