Exclusive
The Key To Brooke Mueller's Sobriety: Staying Off Attention Deficit Disorder Meds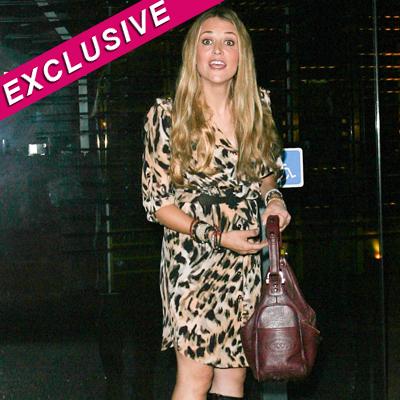 By Jen Heger - RadarOnline.com Legal Editor
As Brooke Mueller's lawyer and prosecutor in Aspen, Colorado, hash out terms of a plea deal stemming from her arrest for cocaine possession, RadarOnline.com has exclusively learned the key to Charlie Sheen's ex-wife staying sober will be her continued commitment to staying off of Attention Deficit Disorder medications, that she had been taking for years.
Brooke, 34 ,was arrested last December in Aspen for assault and possession of cocaine. Mueller will face a judge in several weeks for her formal arraignment on the charges. The mother of Charlie Sheen's twin toddler sons was recently released from the renowned Cirque Lodge, a rehab facility in Utah, where she was treated for 90 days.
Article continues below advertisement
One of the reasons Mueller was unable to stay sober after previous rehab stints was because she was on several Attention Deficit Disorder medications, which for an addict battling with sobriety is extremely difficult because it's a very intense stimulant classification of medications.
"Brooke's treatment team at Cirque Lodge conveyed to her that it was imperative that this medication must no longer be a part of her life if she wanted to stay sober. Brooke did have a very mild case of ADD which was diagnosed by a doctor about 7-10 years ago, but she mainly used it to stay thin. A lot of women do take ADD medications because it does have the side effect of appetite suppression.
"Brooke had been given ADD medications at previous rehab facilities, but at Cirque, she was weened off of it and closely monitored during that time. She hasn't taken the ADD meds in over two months, and she is telling her friends and family that this is the reason that she is hopeful that this time will be different. She is hopeful that her recovery from drugs and alcohol will be sustained, and lifelong. The only thing she is taking right now is vitamins," the insider tells us.
Article continues below advertisement
Attention Deficit Medications are commonly used by Hollywood starlets to stay thin. During the height of Britney Spears very public mental health crisis which resulted in her father gaining conservatorship of her, the pop star was also taking ADD meds to stay thin.
As RadarOnline.com previously reported, Spears ex-bodyguard, Fernando Flores, revealed in court docs that "Defendant Spears was often under the influence of illegal prescription and non-prescription drugs, such as Ritalin, Narcon (Naloxone) and methamphetamines."
Lindsay Lohan tested positive for Adderall while she was being randomly drug tested in connection with her DUI cases. She was prescribed Adderall for ADD.
Board certified addiction specialist Dr. Drew Pinsky has previously voiced his concerns to RadarOnline.com about addicts taking ADD meds. "I have had lots of experience with Adderall.
There seems to be problematic issues related to Adderall, addicts seem to do OK on Adderall short-term, but as time goes on, the drug becomes an issue," Pinsky told us.
Article continues below advertisement
Meanwhile, Mueller is "going to AA meetings everyday, continuing to get outpatient therapy and spending time with the boys. Brooke's foremost concern is the boys. She wants to be the best mom possible. Brooke will accept responsibility for her actions in Aspen and do whatever the judge sentence will be," the source says.
Mueller was married to Sheen from 2008-2011; they have twin boys -- Bob and Max, who turn 3-years-old in March.