Exclusive
EXCLUSIVE INTERVIEW: Dr. Drew Says Jail Won't Help Lindsay Lohan -- 'Let Me Help Her'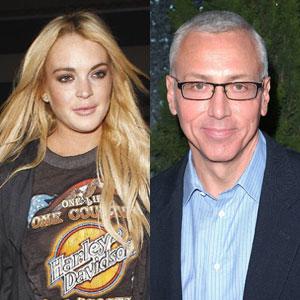 Famed addiction specialist Dr. Drew Pinsky is coming to the defense of Lindsay Lohan, saying the Mean Girls star should NOT be sent to jail.
In an exclusive new interview with RadarOnline.com, Dr. Drew - who does not, nor has ever treated Lindsay - weighs in on her out-of-control spiral.
AUDIO: Michael Lohan Says "Judge Got It Ass Backwards" In Lindsay Case
Dr. Drew tells us, "Jail will only harden her. I have in the past and I even would be willing to go in front of the judge, if Lindsay asked me to, and ask that she be placed in my care to begin a year long residential treatment, at the minimum. The judge ordered Lindsay to 90 days of treatment, and that just won't be enough for her sadly.
Article continues below advertisement
As RadarOnline.com has previously reported, Lindsay took the powerful prescription drug Dilaudid for at least two weeks after she had her wisdom teeth removed, according to her probation report, which was released last week.
Dr. Drew added, "Lindsay shouldn't have been prescribed Dilaudid, except with great caution and the participation of an addiction team. She is an addict with unstable active disease, and Dilaudid can only make that much worse."
Pinsky goes on to say that Lindsay needs to be treated by a team of doctors, and not just one, because a united front is very important in treating an addict.
"I always treat patients with a team in place. I never treat addicts alone. As a doctor, you can't get sucked into that person's disease, and the disease is so very powerful. Lindsay needs to have a team of doctor's treating her. It's also why we send families to Al-Anon, so the family can stand with others so that the addict knows all on the same page."
Article continues below advertisement
One of the other drugs that Lindsay tested positive for was Adderall, which Dr. Drew says is a pschyo-stimulant. "I have had lots of experience with Adderall.
"There seems to be problematic issues related to Adderall, addicts seem to do OK on Adderall short-term, but as time goes on, the drug becomes an issue. I think what we saw in court last week with Lindsay was related to issues she could be having with Adderall."