Ashton Who? Has Demi Moore Got A New Boy Toy?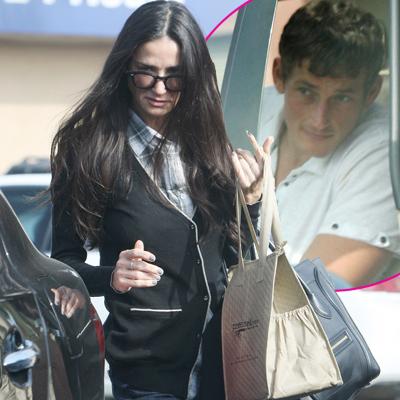 A cougar always gets its cub!
Just as Ashton Kutcher replaced Charlie Sheen on Two and a Half Men, has this young stud replaced Kutcher in Demi Moore's life?
We're not sure, but given the actress' past history of going for younger men, would it really surprise anyone?
These shots were taken in Hollywood Saturday as the G.I. Jane star, 49, got out of an SUV driven by the young'un and into her own vehicle.
Article continues below advertisement
As we previously reported, Kutcher, 33, cheated on Demi with a 23-year-old woman named Sara Leal at the Hard Rock Hotel in San Diego last fall -- on the same night of their sixth anniversary.
The pair announced their split in November.
Meanwhile, it seems Ashton has also already moved on — with a Demi look-alike! The actor was spotted partying hard with actress - director Lorene Scafaria in an Athens nightclub, along with one of Ashton's business partners.