Ashton Kutcher & Two And A Half Men A Ratings Hit!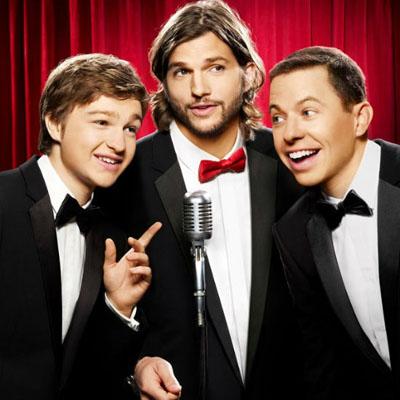 Sorry Charlie.
CBS' revamped Two and a Half Men, featuring Ashton Kutcher as a heartbroken billionaire, scored huge ratings for the network, luring in 27.8 million viewers for its season 9 premiere -- twice the number that tuned into last season's premiere when Sheen was still the star of the show.
Not only was Two and a Half Men a bona fide hit Monday night, it was also the highest rated 'Men' episode -- ever.
Article continues below advertisement
The sitcom garnered a 10.3 rating/ 24 share in the all important key demo of adults, aged 18-49, and a 12.2 rating in the 25-54 demo, according to early data from Nielson.
'Men' delivered a powerful lead-in to a new CBS sitcom, Two Broke Girls, which averaged a whopping 19.2 million viewers.
The number of people who tuned in to watch 'Men' was so high, it put a noticeable dent in the ratings for ABC's season premiere of Dancing With the Stars, which averaged 18.6 million for the night.
However, the two-hour 'Dancing' premiere was still strong enough to give ABC to a win for the night in viewers, thanks in part to curiosity over Chaz Bono, the program's first transgender contestant.
Meanwhile, NBC's The Playboy Club premiered to a weak 5 million viewers Monday night, while The a Cappella competition The Sing-Off fared a little bit better, taking in 5.2 million viewers for its two-hour season premiere.