Demi Moore: 'Sorry It Bothers So Many Of You' I Haven't Changed My Twitter Name (Mrs. Kutcher)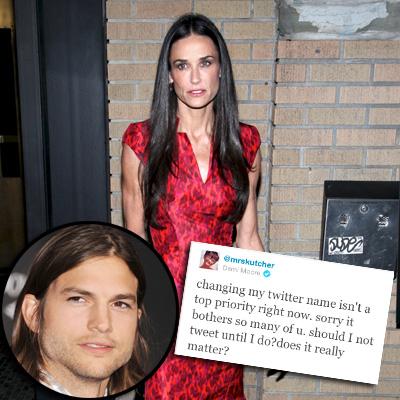 By Adam S. Levy - Radar Staff Writer
Demi Moore won't be "Mrs. Kutcher" for too much longer, but please don't remind her of that.
The star is clearly irritated with Twitter users suggesting she change her username on the micro-blog -- "mrskutcher" -- in the wake of filing for divorce last month from her husband of six years, Ashton Kutcher.
The Ghost beauty tweeted to her 4.3 million followers early Wednesday: 'changing my twitter name isn't a top priority right now. sorry it bothers so many of u. should I not tweet until I do?does it really matter?'
Article continues below advertisement
Moore, 49, has had a rough few months since Kutcher's reported roll-in-the-hay with a 23-year-old named Sara Leal at San Diego's Hard Rock Hotel September 24, ironically, the night of their sixth wedding anniversary.
When the beauty -- who has looked alarmingly thin in the wake of the scandal -- filed for divorce November 17, she issued a statement that read: "It is with great sadness and a heavy heart that I have decided to end my six-year marriage to Ashton. As a woman, a mother and a wife there are certain values and vows that I hold sacred, and it is in this spirit that I have chosen to move forward with my life."
In related news, Leal told Fox News this week that she had no clue Kutcher, 33, was married - "No way," she said - when they hooked up.
"I don't watch television and I read very few magazines," Leal said. "It never crossed my mind that he was married. But then he said he was separated, which still doesn't make things okay, but I wasn't thinking clearly.
"He was a good looking guy and it was stupid. When people say to me, 'I can't believe you did that,' I want to say back that most 22-year-old girls in my position would have done the same thing."