Demi Moore: 'What Scared Me Was The Idea Of Being Abandoned'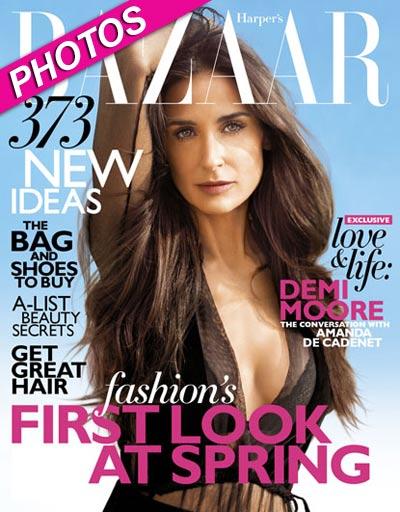 By Amber Goodhand - Radar Reporter
Demi Moore has remained relatively quiet since her split with hubby Ashton Kutcher, until now.
The 49-year-old sat down with her The Conversation co-star Amanda De Cadenet recently for an interview about love, body image, relationships and finding freedom for the January issue of Harper's Bazaar and RadarOnline.com has all the details.
"Letting go of the outcome. Truly being in the moment. Not reflecting on the past. Not projecting into the future. That's freedom. Not caring more about what other people think than what you think," Demi said when asked about freedom.
Article continues below advertisement
"Somebody wrote something to me that said, 'Don't let your wounds make you become someone you're not.' That's really powerful. And not taking life too seriously."
The girls chatted candidly about their fears, with Amanda noting that "infidelity scares me" and Demi admitting that she used to be scared of abandonment.
"I used to think that what scared me was the idea of being abandoned until someone said to me, 'Only children can be abandoned. Adults can't be abandoned because we have a choice. Children don't have a choice,'" Demi said.
"So I started to rethink. 'Okay, it's not that. What's the underlying thread that really scares me?' I think what scares me is not having the courage to reach my full potential."
Aside from Demi's very public breakup with Ashton, she's also had to deal with a barrage of scrutiny over her ever-shrinking body.
"I have had a love-hate relationship with my body. When I'm at the greatest odds with my body, it's usually because I feel my body's betraying me," Demi said.
Article continues below advertisement
"Whether that's been in the past, struggling with my weight and feeling that I couldn't eat what I wanted to eat, or that I couldn't get my body to do what I wanted it to do."
The mother of three says she's found peace with her body.
"I think I sit today in a place of greater acceptance of my body, and that includes not just my weight but all of the things that come with your changing body as you age to now experiencing my body as extremely thin — thin in a way that I never imagined somebody would be saying to me, 'You're too thin, and you don't look good.' I find peace when I don't see my body as my enemy, when I step back and have appreciation and look at all that my body has done for me," she said.
"It's allowed me to give birth to three beautiful children, allowed me to explore different roles as an actor, allowed me to be strong. You can't look at yourself in the mirror and tear your body apart. You have to look at it and go, 'Thank you. Thank you for standing by me, for being there for me no matter what I have put you through.'"
To read Demi's full interview you can pick up the new issue of Harper's Bazaar, on newsstands January 17.