Brad Pitt & Angelina Jolie Are Open To Adopting More Kids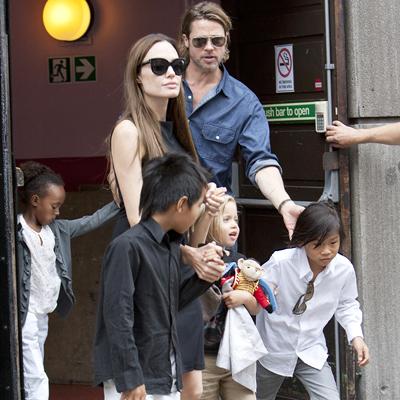 Brad Pitt and Angelina Jolie have one of the biggest broods in Hollywood, but will they be expanding their family even more anytime soon?
The Academy Award nominated actor opens up to The Hollywood Reporter in their latest issue, revealing that he and Angelina aren't opposed to having more kids, but hints that adoption would be the most likely method, and RadarOnline.com has the details.
Article continues below advertisement
"We haven't closed the book on it," Brad responded, when asked if he and Angie would be open to having more kids.
"There's a really nice balance in the house right now, but if we see the need and get that lightning bolt that says, 'We can help this person; we could do something here,' then absolutely."
The Moneyball star noticeably did not address what everyone really wants to know: whether he and Angelina are going to make another beautiful baby together.