Angelina Jolie & Kids Shop At Souvenir Shop For Brad Pitt's Birthday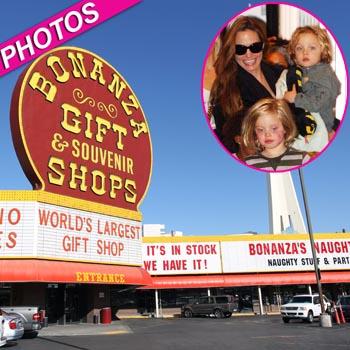 Article continues below advertisement
Angelina picked up rattle snake key chains for the kids and Brad too.
"Shiloh really loved the rattlesnake head key chains, and Pax couldn't get enough of them either," the store manager said.
"Angelina was really cute; she turned it into a lesson. When they were playing with the key chain she said 'What do you do when you hear that sound?' and they all said 'Run!'"
As RadarOnline.com previously reported, Brad and the family celebrated his birthday in Vegas over the weekend, attending a performance of Michael Jackson THE IMMORTAL World Tour Saturday night.
In addition to kids' gifts, Angelina picked up some fun adult gifts for Brad too, including Polly the Insulting Parrot, which the kids were enjoying listening to until their mom put a stop to it. "She said they couldn't listen to it because it had cuss words in it," the manager told RadarOnline.com.
Angelina and the kids' visit didn't go unnoticed by store patrons. "There were 200 people in the store and they all froze when she walked in and just watched her shop."
Article continues below advertisement