Exclusive
Who Is Demi Moore's New Boyfriend? 5 Things You Didn't Know About Him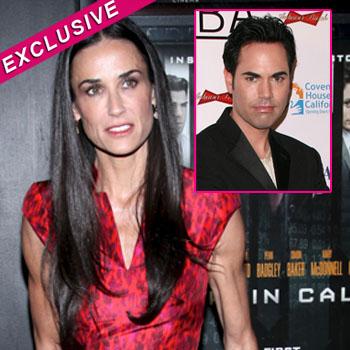 By Amber Goodhand - Radar Reporter
Demi Moore seems to have moved on quickly from her six-year marriage to Ashton Kutcher, so RadarOnline.com is exclusively bringing you five things you don't know about her new beau, Scott-Vincent Borba.
1. Scott-Vincent worked as a Ford model during his college years at Santa Clara University and was involved in major runway shows and fashion campaigns for Versace and Calvin Klein.
Article continues below advertisement
2. Demi likes her men tall and young -- Scott-Vincent is 38-years-old and 6'1" and her ex Ashton is 33-years-old and 6'2".
3. Scott-Vincent is the youngest of five children, originally from the small farming town of Vasilla, California. "I received unequivocal guidance and support from my parents," he says. "They encouraged my ambitions to escape the constraints of the small town and create something bigger, something significant of my life."
4. Scott-Vincent had terrible skin in his youth, which prompted him to develop and launch the BORBA skin care line in 2004. Since his first appearance on QVC in 2006, his reputation in the beauty industry and especially with celebrities has skyrocketed — TIME magazine even referred to him as a "genius."
5. Scott-Vincent is a nice guy: He's the global spokesperson for Covenant House California, a non-profit organization providing food, shelter, life-skills counseling and education for youth in need.
Article continues below advertisement
"Demi and Scott-Vincent started dating last week," a source close to the couple exclusively revealed to RadarOnline.com.
"They have known each other a long time and he's really been there for her by her side through the whole Ashton thing."
When asked for comment by RadarOnline.com, Scott-Vincent did not deny that he's dating Demi, but said, "I do not comment on my personal life."
Do you think Scott-Vincent is a good match for Demi? Leave your comments below...