Happy Holidays! Ashton Kutcher Swarmed By Party Girls In Iowa Over Thanksgiving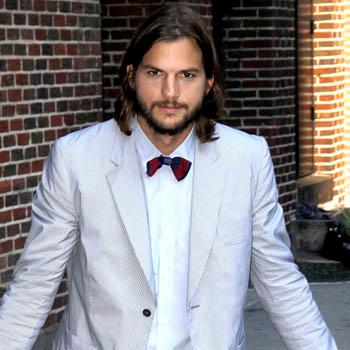 Article continues below advertisement
The night before Thanksgiving, Kutcher and his guy pals hit up local Iowa City bars Bo James and Sports Column, where he was the object of many women's attention.
"He was drinking beer and girls kept coming up to him," a source told Us. "He loved the attention. Girls were hugging him and shaking his hand."
On Saturday night, Ashton took his partying to a whole other level when he spent the night downing beer and shots of liquor at the Summit bar where he was "swarmed by girls," said an eye witness. "A few were trying to get him to go to a strip club but he declined."
His wild party nights are a far cry from the image that Ashton publicly portrayed of his time at home, spotlighting his happiness at being back in the countryside by tweeting a bizarre self portrait of himself with a cow in the background, and the comment "Country Giving."
According to In Touch Weekly, now that he has officially split from Demi Moore after six years, Ashton has been crashing at a friend and business associate's duplex in Los Angeles.
MORE ON:
hollywood happenings
Article continues below advertisement
Instead of crying over the wreck of his marriage, the sitcom star is enjoying his new found freedom. "He's ready to get out there and have fun," a source told In Touch, and he's even setting up his own bachelor pad on Hollywood's Sunset Strip.
"He's ready to make up for lost time," said the insider.
RELATED STORIES:
MOOOOOve Over Demi! Ashton Kutcher Goes From Cougar To Cow