Exclusive
Demi Moore Divorcing, But Still Going By Mrs. Kutcher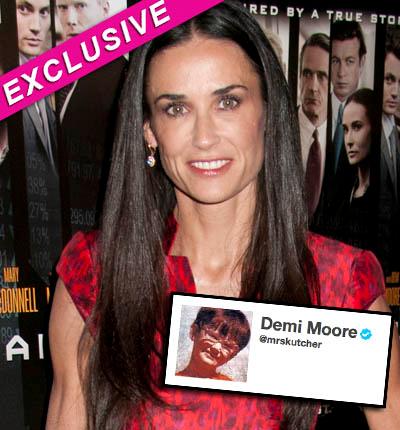 Demi Moore hasn't tweeted since last Thursday — the same day she announced she's ending her marriage — but RadarOnline.com has discovered she's still going by Mrs. Kutcher on her Twitter account.
The 49-year-old actress released a statement about the split from her hubby of six years, Ashton Kutcher, in wake of his recent cheating scandal involving San Diego party girl Sara Leal.
Article continues below advertisement
"It is with great sadness and a heavy heart that I have decided to end my six-year marriage to Ashton. As a woman, a mother and a wife there are certain values and vows that I hold sacred, and it is in this spirit that I have chosen to move forward with my life," she said in a statement to the AP.
"This is a trying time for me and my family, and so I would ask for the same compassion and privacy that you would give to anyone going through a similar situation."
But it seems Demi hasn't taken all the steps to "move forward" with her life — like changing her Twitter name from Mrs. Kutcher to something removed from the Two and a Half Men actor.
Ashton, 33, tweeted about the separation last Thursday saying, "I will forever cherish the time I spent with Demi. Marriage is one of the most difficult things in the world and unfortunately sometimes they fail. Love and Light, AK."