Elin Nordegren Plays At A Park With Her Kids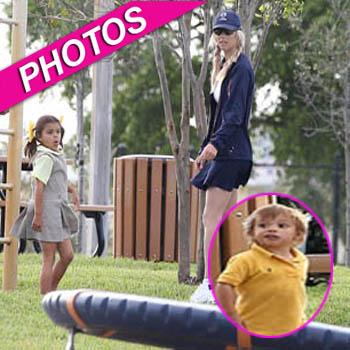 Tiger Woods' cubs are growing up fast!
The golfing legend's smoking hot ex-wife Elin Nordegren spent the day at a West Palm, Florida park Tuesday with the former couple's two children Sam and Charlie – and RadarOnline.com has the photos.
Despite their high profile divorce, the 31-year-old bombshell is still supporting her husband – via his athletic sponsor! Elin was showing off her hot bod in a skintight Nike top and sexy tennis getup.
Article continues below advertisement
Nordegren, who is currently dating businessman Jamie Dingman, was hands-on with her adorable children as they crawled around the jungle gym and frolicked around the lush park.
She did however find some time to break away and engaged in a serious phone call.
As the holidays loom this is an emotional time for Elin -- two years ago on the eve of Thanksgiving, Elin discovered Tiger had been cheating with New York party girl Rachel Uchitel, they fought, he flew out of the house in a rush, crashed his car and the rest is gossip history.
But this year is gearing up to be different with her handsome investor boyfriend in her life.
Dingman has grown so close to Sam and Charlie that Tiger is apparently fuming with jealousy.
"Tiger has always hoped, unrealistically, that he and Elin would get back together one day," the National Enquirer reported. "She's serving notice that he has lost her for good, and another man will be raising his kids."