Seven Things You Didn't Know About Elin Nordegren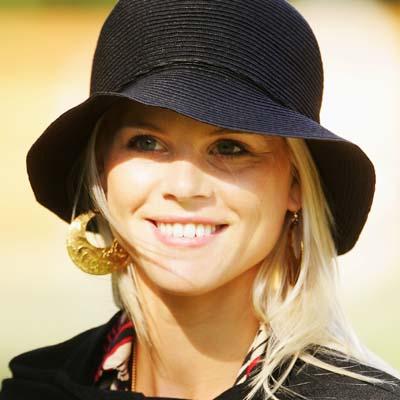 By Adam S. Levy - Radar Staff Writer
She's one of the richest, most beautiful women in the world, yet she keeps a decidedly-low profile. But now -- nearly two years after being thrust into the headlines after her marriage to serial-cheating golf icon Tiger Woods publicly imploded -- how well do think you know Elin Nordegren?
As she embarks on a new life with a new love (investor Jamie Dingman), RadarOnline.com reveals seven things you may not know about the Swedish siren...
Article continues below advertisement
7. Her parents are movers and shakers: Both of Elin's parents are accomplished professionals in Swedish politics. Father Thomas Nordegren, a radio journalist, worked as a bureau chief based out of Washington, D.C. reporting back to Sweden. Elin's mother Barbro Holmberg, who's currently serving as the governor of Gävleborg County, served as the migration minister of Sweden from 2003 to 2006.
6. She's been unwittingly thrust into more than one scandal: As a model, Elin's never been snapped wearing less than a bikini, but she'd been the target of rumors of nude pics of her in circulation. She denied the rumors vigorously, taking the issue to court, where in 2007, she and Tiger received $183,250 and an apology from The Dubliner, an Irish magazine, after the publication mistakenly claimed she was the nude model in the pictures they'd published. (The images were actually of Playboy model Kim Hiott.) She and Tiger donated their lawsuit winnings to a cancer charity.
5. She's a New Year's twin: Elin was born New Year's Day, 1980 -- moments before her twin sister, Josefin. The "younger" of the pretty pair is an attorney and works as an associate for the London-based firm McGuireWoods LLP, which brings us to ...
4. Elin's legal team included her sister: In her divorce last year, Elin was represented by her sister's firm, McGuireWoods LLP. But it wasn't Josefin that guided her twin toward divorce court -- just the opposite, actually. A source told us Josefin tried everything to persuade her sister to try and make the marriage work. "When Tiger told Elin he really wanted to change and would do anything to save the marriage, it was Josefin who convinced her sister to give him a chance. And when more and more women came forward, it was Josefin who told Elin not to file divorce papers out of anger – that she could always file them later," the source said.
Article continues below advertisement
EXCLUSIVE PHOTO: Tiger Woods' New Girlfriend Mug Shot -- Arrested On Suspicion Of DUI
3. Follow with your first (and second, and third, and fourth) instinct: When they first met, Elin rejected Tiger's advances four times before relenting, agreeing to go out with the world-famous golfer. In hindsight, Tiger's aggressive pursuit of female companionship doesn't seem like such a shocker.
2. She's extremely reclusive: OK this one you might have figured out on your own, seeing as how she's been at the center of the biggest scandal in years and has only done one interview -- in print! A golf insider told People, "If Tiger is a man of few words, Elin is a woman of no words."
1. Cursed from the get-go? The duo was dogged by breakup rumors before they even tied the knot. As whispers swirled the famous couple was headed for a heartbreak, Elin and Tiger shocked the world in October 2004, getting married in a top-secret, $1.5 million ceremony at Barbados' Sandy Lane resort. Among those in attendance included NBA legends Michael Jordan and Charles Barkley.
And the rest, as they say, is history.