Elin Nordegren – A New Life & A New Love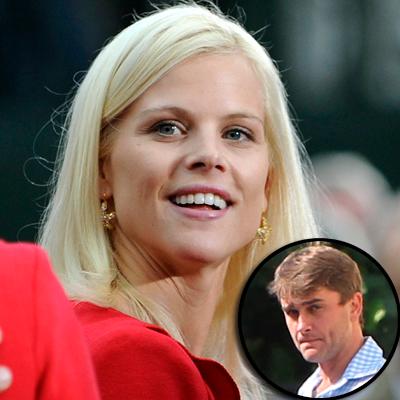 While most of the country was consumed with Irene last weekend, the winds of change were also blowing more than 1,000 miles to the south, where Tiger Woods' beautiful ex-wife Elin Nordegren showed just how far she's come in her love life with her new man, investor Jamie Dingman.
As we previously reported, the debonair Dingman stayed with the 30-year-old Swedish beauty at her Palm Beach digs Friday night, and the new lovers recharged their jets with a coffee run early Saturday. After the wealthy investor departed via his limousine, a beaming, content Elin took her kids Sam and Charlie to the nearby beach, where they built sandcastles.
Article continues below advertisement
Nordegren, a former model from Sweden, essentially became a household name after a Thanksgiving 2009 fight with her golf legend ex in which she reportedly attacked Woods as he drove in his SUV, spurring a minor crash.
Of course, that was only the spark that lit the fuse, and once the details of Woods' serial cheating began spilling out through the media -- he'd had extramarital affairs with as many as 15 women -- Nordegren became one of the world's most sympathetic figures, as the mother-of-two trotted on with the couple's children, Sam and Charlie, in tow.
Article continues below advertisement
"I have been through the stages of disbelief and shock, to anger and ultimately grief over the loss of the family I so badly wanted for my children," she told People a year ago this week, in what has been her only public comment-to-date, about how her previously-storybook life was invaded by more than a dozen mistresses with sordid stories to tell.
In the interview, Elin said her "immediate plan" was for she and her children "to adjust to our new situation."