7 Things You Didn't Know About Elin Nordegren's New Love Jamie Dingman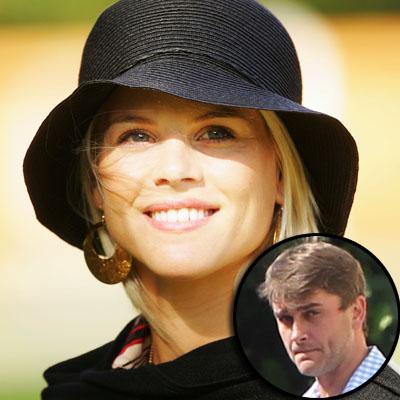 By Adam S. Levy - RadarOnline.com Staff Writer
So it looks like things are heating up between Tiger Woods' ex-wife Elin Nordegren and investor Jamie Dingman -- as we previously reported, they spent the night at her Palm Beach digs last Friday, and looked lovestruck during a coffee run early Saturday.
After Dingman, the 37-year-old son of billionaire Michael Dingman, left in his limousine, the happy 31-year-old Swedish beauty took her kids Sam and Charlie to the nearby beach, where they built sandcastles in what was, perhaps, a metaphoric testament to the way Elin's rebuilt her love life.
Article continues below advertisement
With all that said, here's a little more on the moneyman who Elin's investing her love with...
7. He's all business: His father is billionaire Michael Dingman, the leader of the international investments firm, Shipston Group Ltd. The corporation invests heavily in education, medical technologies and construction, according to reports.
6. He racks up more frequent flyer miles than you: The well-to-do jet-setter considers the world his playground, as he primarily splits his time between China (he's worked there for six years representing his family's business) and the Bahamas; since the love affair with Elin began, he's been seen more in her stomping grounds, Florida and Sweden.
5. He regularly hobnobs with royalty: Through his business and social entanglements, Dingman has rubbed shoulders with many a blue blood. He reportedly dated Sweden Princess Madeleine in 2010, who ironically, introduced him to Elin. He's connected to Queen Silvia of Sweden via his charity work.
Tiger Woods Dropped By Another Sponsor As He Returns To Tournament Play
4. It's a small world after all (maybe): An NY Post columnist claims Dingman "bedded" Rachel Uchitel, the first Tiger Woods mistress to go public; further reports claim the pair had two flings in 2009 in Miami, while they stayed at the home of a mutual friend. Dingman subsequently denied the accusations, claiming he was only in South Beach with Uchitel to work on a "investment business" plan.
Article continues below advertisement
3. He's dated more than one A-list athlete's baby's mama: Dingman might not win any tournaments or Super bowls, but you wouldn't know from his love life, as in addition to Elin, he dated gorgeous Bridget Moynahan, the mother of Tom Brady's oldest son, Jack.
2. He might have something in common with Elin's ex: A source close to the situation told OK! Dingman's "is a total playboy, exactly the type of guy a lot of people believe Elin should be staying away from." Another insider said that the investor has "girls and houses all over the world."