Conrad Murray Trial Recap: Prosecution Rests, Defense Begins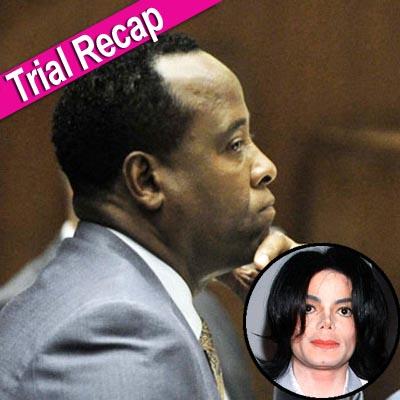 The prosecution rested its case Monday in the involuntary manslaughter trial of Michael Jackson's personal physician Dr. Conrad Murray.
The final witness called by prosecutors was anaesthesiologist Dr. Steven Shafer who told the jury Murray's account of what happened on the night of the pop legend's death from acute Propofol intoxication on June 25, 2009, was not supported by scientific evidence.
Article continues below advertisement
Taking his fifth day on the stand, Dr. Shafer was questioned by a defence attorney about his earlier testimony regarding how much of the anaesthetic Propofol Murray could have given Jackson and how it was administered.
Under oath, Shafer concluded that, in his opinion, the only plausible explanation for the amount of Propofol in the Thriller singer's system was that it had been administered via an intravenous drip which continued to enter Jackson's system even after his heart had stopped.
The doctor also claimed Murry had given the singer 40 times more Propofol than he had admitted to police.
However, he admitted to defence attorney Ed Chernoff under questioning that he could only speculate to what had happened in the hours leading up to Jackson's death because Murray had kept no records.
Later, under questioning from the prosecution, Shafer again repeated his expert opinion that there was no way Jackson could have administered the dose of Propofol that killed him – the claim of Murray's defense team.
MORE ON:
Celebrity Justice
Article continues below advertisement
When asked by Deputy District Attorney David Walgren: "You were not able to find a scenario that could explain the blood levels and also self injection?"
Shafer answered: "Correct."
After Shafer left the stand, the prosecution rested their case, meaning the defence team can present their case for Murray's innocence.
Since the trial began four weeks ago, the prosecution has called 33 witnesses, including numerous medical experts who have been highly critical of Murray's treatment of Jackson on the night of his death.
The first defence witness called to the stand to testify was a Beverly Hills police official, who revealed details of the telephone call made for an ambulance from the Los Angeles mansion Jackson was staying at on the day of his death.
Murray - who denies involuntary manslaughter - faces up to four years in prison if he is found guilty.
You can watch the trial live, here on RadarOnline.com.
RELATED STORIES: