Conrad Murray's Defense Team's Decision To Call LAPD Detective Could Backfire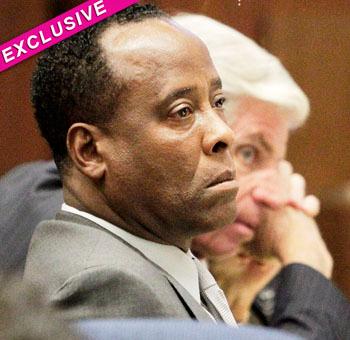 By Jen Heger - Radar Legal Editor
Dr. Conrad Murray's defense team will be calling an LAPD detective that will testify that on the day Michael Jackson died, the embattled cardiologist never revealed that he had given the King of Pop Propofol, RadarOnline.com is exclusively reporting.
The prosecution rested their case on Monday morning with their final witness Dr. Steven Shafer, and now it's the defense's time to build a case of innocence for their beleaguered client — and first up, LAPD Detective Porsche.
Article continues below advertisement
Detective Porsche will tell jurors that Dr. Murray did admit to giving Jackson a sedative, but not to administering the powerful anesthetic Propofol.
"Detective Porsche was dispatched by LAPD to the hospital to interview the pertinent witnesses after Jackson's death. Detective Porsche met with Dr. Murray and he admitted to giving Jackson sedatives," a law enforcement source tells RadarOnline.com. "The defense is calling him to the stand because Dr. Conrad Murray returned calls to Detective Porsche the day after Jackson died — which they claim shows that Dr. Murray had nothing to hide, and that he was willing and ready to talk to cops."
However, the decision to call this witness could backfire very quickly for the defense because Deputy District Attorney David Walgren will most likely ask the detective on cross examination: "If Dr. Murray ever mentioned that he gave Propofol to Michael Jackson, and that answer will be no. Remember, Detective Porsche was at the hospital right after Jackson died. Dr. Murray never, never mentioned the word Propofol the day that Jackson died, and this will be emphasized by the prosecution," the insider says.
Article continues below advertisement
As RadarOnline.com previously reported, Dr. Murray's defense team is fighting with each other.
Ed Chernoff, Dr. Murray's lead attorney, is from Houston, Texas, and had been staying with another member of the defense team, Michael Flanagan, to save his client money.  But after a recent bout of bickering, Chernoff moved out from Flanagan's posh digs in San Marino, and into a hotel.
Conrad Murray Trial Recap: Defense Expert Conducted Beagle Propofol Tests