Conrad Murray Trial Recap: Expert Says 'Extremely Unlikely' Michael Jackson Caused Own Death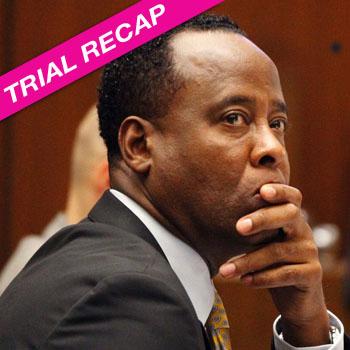 An expert on the powerful anesthetic Propofol says it is "extremely unlikely" Michael Jackson would have caused his own death by swallowing the drug.
Anesthesiologist Steven Shafer took to the stand Thursday in the case against the late singer's personal physician Dr. Conrad Murray, who has been charged with involuntary manslaughter of the pop star after he was accused of giving him an overdose of Propofol while trying to help him sleep.
Article continues below advertisement
Coroner's officials have determined the singer died from acute Propofol intoxication and also noted there was anti-anxiety drug Lorazepam in Michael's system.
Shafer - who is expected to be the prosecution's last witness - told jurors that the drug cannot enter the bloodstream in a sizeable quantity if it is swallowed and said based on Murray's timeline of events, where he says he was away from the pop star for just two minutes, there would not have been sufficient time for Michael to inject himself.
He explained: "The possibility of a direct self-injection seems extremely unlikely."
Shafer reminded the jury that injecting Propofol is a complicated process and showed them various formulas and diagrams on a large screen.
He said the defense's argument that Michael gave himself the powerful anesthetic was also unlikely because he would've been groggy from other drugs administered throughout the night.
Article continues below advertisement
He explained: "He can't give himself an injection if he's asleep.
"People don't just wake up from anesthesia hell bent to pick up a syringe and pump it into the IV. It's a crazy scenario."
Shafer said it was more likely that Murray gave the singer a higher dose of Propofol than he told police and he also explained the defense's own testing showed Michael hadn't swallowed any lorazepam pills in the four hours before his death.
Murray's attorneys have previously argued Michael gave himself extra doses of Propofol and lorazepam without the doctor knowing - but the anesthesiologist said those doses would've amounted to just 10 per cent of the drug found in his body at the autopsy based on the timings Murray has given.
He said: "It's only 10 percent of what was measured, so this did not happen."
Prosecutor David Walgren asked Shafer: "The blood levels proved that there is more than four milligrams of lorazepam administered to Michael Jackson?"