Dr. Conrad Murray DA David Walgren 'Bringing Sexy Back' To The Courtroom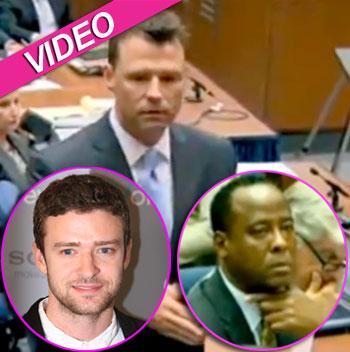 By Jen Heger - RadarOnline.com Legal Editor
High profile celerity cases in Los Angeles always result in a fascination with the participants, O.J. Simpson had the infamous dancing Lance Ito judges, Phil Spector had his fantastic collection of wigs and the Dr. Conrad Murray trial has the dashing good looks of the Deputy District Attorney David Walgren.
Walgren has impressed courthouse onlookers with his impressive legal skills and professionalism. However, it's his JFK Jr. resemblance that has inspired a YouTube video montage of Walgren set to Justin Timberlake's hit, Sexy Back.
Article continues below advertisement
Walgren also has a Facebook fan page titled, "David Walgren Is Hot."
Walgren does have some competition though from his expert witness that testified earlier this week, Dr. Alon Steinberg.
Dr. Steinberg was nicknamed, Dr. McDreamy when he took the stand, and explained to jurors the multiple reasons why Dr. Murray was responsible for Michael Jackson's death. Dr. Steinberg also has a Facebook fan page, "Dr. Alon Steinberg Is Hot Like David Walgren--Or Even Hotter."
Court is in recess until Monday. You can watch the trial live, here on RadarOnline.com.
Walgren is happily married to Deputy District Attorney Nicol Walgren, and the couple have two children.
Take a look at David Walgren bringing Sexy Back below: