Conrad Murray Trial Recap: Dr. Had 'No Concept' Of Time During Michael Jackson Death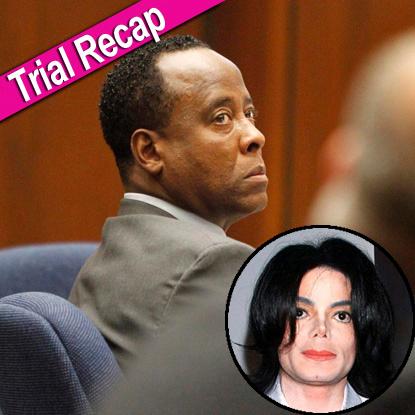 A cocktail waitress who received a call from Dr. Conrad Murray around the time of Michael Jackson's death is expected to take the stand Tuesday in the physician's trial.
During proceedings on Monday, the court heard testimony that Murray "had no concept of time" in the lead up to the singer's death.
Dr. Nguyen - who attended to the King of Pop when he was brought into the hospital - told the court that Murray explained to her he had given the star two separate doses of Ativan, which is also known as lorazepam, via an IV to help him sleep.
Article continues below advertisement
The doctor then told her he had briefly left Michael's bedroom and returned to find the star was not breathing.
However, Murray told the cardiologist he did not know when he administered the doses, when Michael had stopped breathing or how long it had been before emergency services were called.
Dr. Nguyen said: "He said he did not have any concept of time, that he did not have a watch."
Michael died of acute Propofol intoxication, but Murray has denied being the one who administered the drug.
Dr. Nguyen stated on the witness stand that Murray never mentioned giving Propofol to the Billie Jean singer.
She said: "Absolutely not. He did not mention that agent to me."
Earlier on Monday, Dr. Richelle Cooper testified that she had told paramedics Michael could be declared dead when they attended his home, but he was brought to hospital as Murray wanted the resuscitation efforts to continue.
In her evidence, Dr. Nguyen said Murray had asked "that we not give up easily and try to save Mr. Jackson's life", though she felt it was "not a case of too little, too late but a case of too late."
Article continues below advertisement