Exclusive
Baby Lisa Is Still Alive, Believes P.I. Bill Stanton: 'She Didn't Just Evaporate'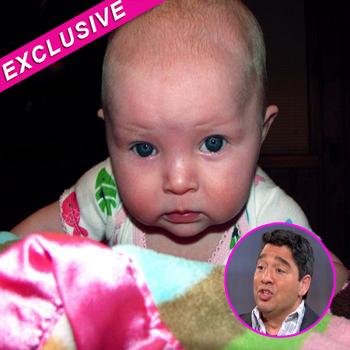 As the police prepare to question Lisa Irwin's older brothers in an attempt for new insight from the family, private investigator Bill Stanton adamantly believes that the missing 11-month-old baby is still alive, RadarOnline.com has exclusively learned.
"Until they find a body, in my mind that baby is still out there and alive," Stanton told RadarOnline.com in an exclusive interview. "She didn't just evaporate, someone took her."
Article continues below advertisement
As RadarOnline.com previously reported, Lisa's parents Jeremy Irwin and Deborah Bradley have agreed to let the authorities question Lisa's big half-brothers, Michael, 5, and Blake, 8, on Friday about the night she went missing from the home.
The two boys were allegedly sleeping with Deborah in her bed on October 3 when Lisa went missing from her crib in the Kansas City, Missouri home. They will be interviewed by a child specialist, according to a report on Good Morning America, and DNA swabs will be taken.
High profile private eye Stanton, who was hired by the family to aid the investigation, revealed that he has a good idea what questions will be presented to the boys, but he can't say.
"I do know what the brothers are going to be asked but I want to be reverent and respectful of the process because the police are doing a very good job," he told RadarOnline.com.
"I don't think they need to be interfered with," explained Stanton, who added: "It's all hands on deck finding this child, while hands-off when it comes to interfering in the investigation.
Article continues below advertisement
"Part of my job is to spread the message in the media of the $100,000 reward in the hope that someone will come forward."
An unnamed female benefactor who had prior ties to the family offered the reward 10 days ago for information leading to the safe return of the Missouri baby, as RadarOnline.com previously reported.
Despite it being three weeks since Lisa was last seen, Stanton revealed that new evidence - including witnesses claiming to have seen a man carrying a baby in the early hours of October 4, and video footage of a man coming out of a wooded area near the home - are both positive developments.
MORE ON:
Celebrity Justice
"It is absolutely encouraging to me, we all need to be paying attention to the witnesses and these sightings," Stanton told RadarOnline.com.
"I can't comment on the ongoing investigation of the man seen carrying a baby, but can confirm the lead is still being followed."
Cyndy Short, the Kansas City attorney hired by Irwin and Bradley, said the couple are still in a stand-off with the police when it comes to further discussion or interrogation, reported Fox4KC.com.
Article continues below advertisement
"We were offering conditions under which we would sit down again and the conditions that they wanted and the conditions that we want right now haven't meshed," Short said. "There's some detectives that really have a broken trust, and so it's going to be counter-productive to try to sit down with those detectives again.
"So it would be better to bring in some detectives who are fresh-eyed, fresh-eared, to listen to the parents. And the parents, I think, would feel more comfortable and less afraid."