Baby Lisa Irwin: New Video Shows Mystery Man Near Where She Disappeared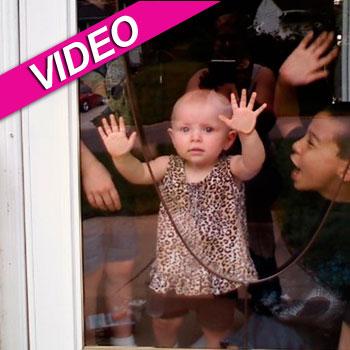 There is a dramatic new clue in the case of missing baby Lisa Irwin.
Surveillance video taken the night the 11-month-old girl went missing shows a man coming out of a wooded area near the Irwin home at 2:30 am. The video was obtained by ABC News which aired it Sunday on Good Morning America.
Police aren't yet commenting on the video but it may connect up with two independent eyewitnesses who told cops they saw a man carrying an infant while walking down the street that night.
Article continues below advertisement
Lisa was reported missing by her parents in the early hours of October 4 when her father Jeremy Irwin returned from a night shift at work, found the front door unlocked and Lisa gone. Her mother, Deborah Bradley, told the police she hadn't seen Lisa since she put her to bed at 6:30 pm the night before, and then drank until she was "drunk" with a friend.