Sullen In The City! Ashton Kutcher Looks Sad In New York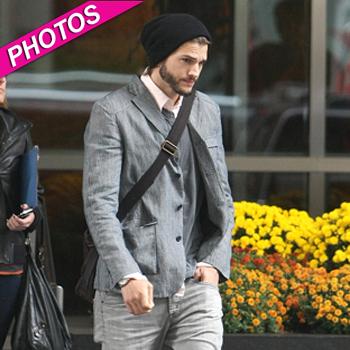 Having a bad day, Ashton?
Two And A Half Men star Ashton Kutcher didn't seem to be having a happy hump day, snapped on the streets of New York City looking sullen and sad Wednesday – and RadarOnline.com has the photos.
Leaving an office building with his assistant, Ashton avoided looking at the camera and kept his left, wedding ring finger hand firmly ensconced in the pocket of his grey-colored jeans.
Article continues below advertisement
Getting into a black SUV, Kutcher lit up a cigarette before the car sped away.
As RadarOnline.com previously reported, the 33-year-old actor's marriage to Demi Moore has been surrounded by split allegations since Sara Leal, a blonde bombshell San Diego party girl, said that she had sex with Kutcher "for two hours" on his sixth wedding anniversary to Moore.
Kutcher has been uncharacteristically quiet on the matter, breaking his silence only once so far, in a bizarre video where he spoke out about "honesty and truth" in the media.