Lady Gaga Falls Down During NY Photoshoot With Annie Leibovitz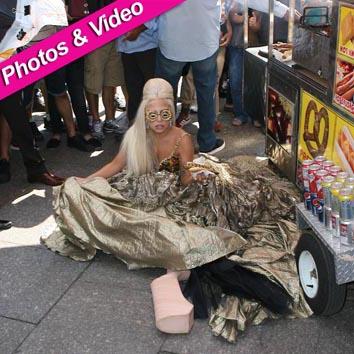 Hundreds of little monsters, four costume changes and one embarrassing fall: Just a typical day for Lady Gaga in New York Monday.
The You & I singer, who's famously fallen off pianos (Yes, we meant more than one time), lost her footing in Manhattan Monday while doing a Vanity Fair photoshoot with renown celeb shutterbug Annie Leibovitz.
Among the outfits Gaga wore: a white furry number that looked from centuries' past; a sexy black outfit showing plenty of skin; and an elaborate gold layered dress, which she had on when she fell down.
Article continues below advertisement