PHOTOS & VIDEO: Lady Gaga Falls Down During Houston Concert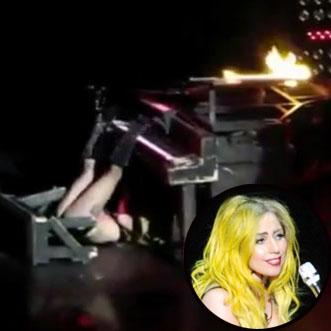 Houston, we have a problem.
Lady Gaga -- wearing a skimpy black bikini-like outfit and long black boots -- fell during her concert in the city of NASA this past weekend, and RadarOnline.com has video and photos from her frightening fall.
Gaga, singing You & I, was attempting to balance herself between her piano and its' bench, when she tumbled backward to the ground during her performance on Sunday.
The ace performer she is, the pop star carried on like nothing happened, and began crawling and singing, undaunted.
Article continues below advertisement