Exclusive
Amy Schumer Stands By Her Controversial 'Charlie Sheen Roast' Ryan Dunn Joke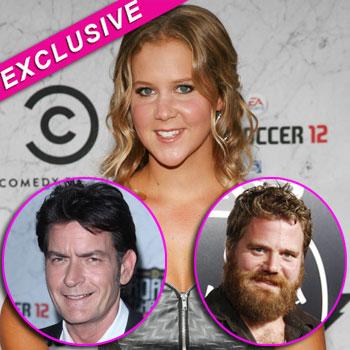 Surprisingly, the most shocking comment at Charlie Sheen's Comedy Central Roast on Monday night wasn't about hookers, blow or boozing - or even about Charlie Sheen himself!
Comedian Amy Schumer managed to jack the distasteful factor up a giant notch with a controversial joke about deceased Jackass star Ryan Dunn that went down like a lead balloon with his best friend Steve-O, but despite the backlash, the little-known comic exclusively told RadarOnline.com that she has no regrets.
Article continues below advertisement
"If anyone feels offended then they are justified but I don't think it was out of line. It was not my intention to offend but I stand by my joke," Schumer said. "It's a roast and we're going for the jugular. It was a joke about Steve-O and not about Ryan," she went on to explain. "I hope people understand that."
As RadarOnline.com previously reported, after sending condolences to Steve-O, roaster Schumer said: "When Ryan Dunn died Steve-O probably was thinking it could've been him ... with the rest of the world wondering, 'Why wasn't it?'"
While many audience members laughed, a visibly upset and stony-faced Steve-O kept a blank expression after the joke was told.
Dunn, 34, died in June, along with a passenger Zachary Hartwell, 30, after a fiery crash in West Chester, Pennsylvania. Authorities later declared Dunn had a blood alcohol level of 0.196 percent, more than twice the Pennsylvania legal limit of 0.08.
Despite the sensitive subject, Schumer doesn't think her joke was "too much, too soon," or even the worst of the night.
Article continues below advertisement
"There were Amy Winehouse jokes, there were Greg Giraldo jokes that were painful for everybody because we all loved him," explained the comic, referring to the singer and fellow stand-up comedian who both died during the past year.
Instead, Schumer believes that the attention has been focused on her because of Steve-O's cold response.
"I wonder what the reaction would be like if they hadn't panned right to him and he'd looked so stony faced," she asked. "If he had giggled it would all be forgotten by now.
"I'd made a joke about his stand-up career before and I think that might have already annoyed him."
The comedian, who has appeared on Curb Your Enthusiasm and Last Comic Standing, said she has not spoken to the Jaskass star since the incident because he went directly to hospital after the show with a broken nose "from running into Mike Tyson's fist."
PHOTO: Charlie Leaving His Attorney's Office
"I think that we would have had a laugh about it over a beer," she said, adding that she has no intention of reaching out to him after the fact.
Article continues below advertisement
The joke rocked Schumer from obscurity to infamy in 24 hours but the New York native didn't intend to cause such a stir.
"You try to say the meanest thing you can writing roast jokes," she explained. "I didn't think that would be the one that would be talking about. That joke didn't even register with me as the roughest one that I told.
"I don't know if it will hurt me or is a blessing in disguise," she said, adding that given the chance for a do-over, "I wouldn't change a second of my set.
"Nothing is off limits, I am a comedian and at a roast nothing is out of bounds. You have to laugh about the worst tragedies, that's the way I've lived my life."
One person who wasn't offended was the man of the hour, Charlie Sheen, who tweeted his support: "Shocking!! @amyschumer <http://twitter.com/#!/amyschumer> ... You're beautiful... funny... and incredibly mean!! And I love you!! xo," the former Two And A Half Men star wrote on Tuesday.