Comic Cracks Controversial Ryan Dunn Joke At Sheen Roast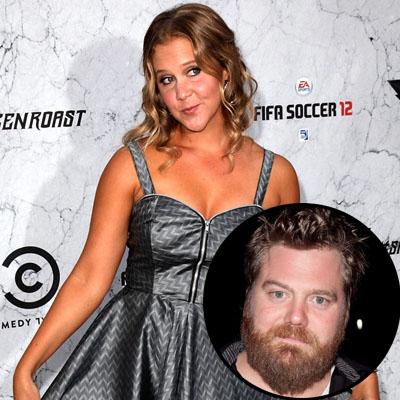 By Adam S. Levy - RadarOnline.com Staff Writer
Is it possible to go too far at a roast?
Relatively unknown comic Amy Schumer put the question to a test in her set at Charlie Sheen's Comedy Central roast that aired Monday, using the recent death of Jackass star Ryan Dunn as grist for the comedic mill while taking a shot at one of the celebrity roasters on the dais, Steve-O.
After sending condolences to Steve-O, Schumer said, "When Ryan Dunn died Steve-O probably was thinking it could've been him ... with the rest of the world wondering, 'Why wasn't it?'" (An upset Steve-O kept a blank expression after the joke was told.)
Article continues below advertisement
Dunn, 34, died in June, along with a passenger Zachary Hartwell, 30, after a fiery crash in West Chester, Pennsylvania. Authorities later declared Dunn had a blood alcohol level of 0.196 percent, more than twice the Pennsylvania legal limit of 0.08.
On Twitter early Tuesday, both Schumer and Dunn were high trending topics, with divided opinions over the appropriateness of the line -- while many users were outraged at the nature of her joke, claiming it was too soon, a few stood up in her defense.
Comic/radio personality Jim Norton tweeted that Schumer "did EXACTLY what she should have done on that roast. F*** people and their selective outrage."
For her part, Schumer re-tweeted Norton's sentiments, as well as one from a user who wrote, "@SethMacFarlane w/ a Winehouse joke and all good.. @amyschumer does a Dunn joke and gets ridic heat? relax ya f***in a******* its a ROAST!"
Schumer isn't the only comedian to feel a little heat for comments made at a roast, where traditionally, nothing is off-limits.
Article continues below advertisement
During Comedy Central's Hugh Hefner roast just three weeks after the September 11, 2001 terrorist attacks, Gilbert Gottfried drew boos from the audience when he joked, "I have to leave early tonight, I have to fly out to L.A. I couldn't get a direct flight, I have to make a stop at the Empire State Building!"
Gottfried -- who was fired as the voice of the Aflac duck after cracking similarly ill-timed jokes about the tsunami in Japan this year via Twitter -- only salvaged his set after launching into The Aristocrats joke, an uber-profane comedy tradition.