Bree Olson: Tension With Natalie Kenly Ended Era Of Charlie Sheen's Goddesses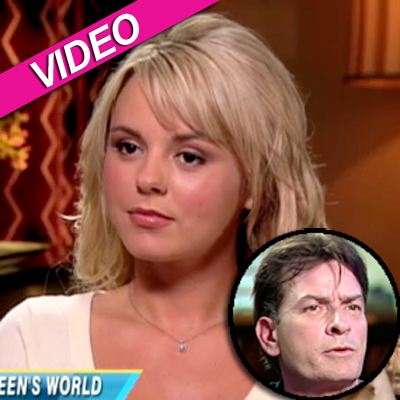 By Adam S. Levy - RadarOnline.com Staff Writer
Three's a crowd, even at Charlie Sheen's house. 


One of Sheen's former Goddesses, Bree Olson, says the tense love triangle that developed between she, Sheen and the other Goddess, model Natalie Kenly, eventually caused the bizarre arrangement to crumble under its' own weight. 


Olson and Kenly were Sheen's two live-in lovers at his side during the actor's self-proclaimed "media tsunami" earlier this year following his public falling out with ex-boss, Two and a Half Men creator and executive producer Chuck Lorre. 


Article continues below advertisement
Olson, a 24-year-old porn star with more than 200 titles under her belt, sat down Wednesday with Good Morning America's Dan Harris, a day after his must-see chat with Paris Hilton. 


Olson said that Kenly's presence came as a shock to her when she moved into Sheen's Los Angeles-area mansion this past February. 


"On the ride over there, his assistant, Rick, says, 'You know about, did Charlie tell you about Natty?'
"And I was like, 'Who?' And he was like, 'Oh.' And then I get to the house and there she is, standing in the kitchen. And she did not look too happy to see me there with my bags," she said. 


The Indiana farm girl-turned-XXX starlet said the tension that grew as a result of the love rivalry was so obvious, "It was like you could cut the air with a knife sometimes.
"I felt like I couldn't show Charlie the affection and the love that I wanted to show him, because of how she would react."


Article continues below advertisement
Olson, whose real name is Rachel Oberlin, said that despite their smiles for the camera, neither she or Kenly were fully comfortable with the unusual arrangement. 


Watch the video on RadarOnline.com
"I think she was trying to convince herself that it was great. But I mean, she was crying like every day. She was really upset about it."


ABC News said they asked Kenly (who's no longer with Sheen either) to comment on the story, but she declined. 


Olson, who's on the cover and has an 8-page spread in the August edition of Playboy, said she hopes to transition from porn to mainstream show business in the next year.
"I think that I'm a damn good actress and I think that I could be in blockbuster hits," she said. "I think that I could be a main character on a series role."


Earlier this year, Sheen told ABC News he's drawn to porn stars because "you already know what you're getting before you meet them.
"They're the best at what they do, and I'm the best at what I do," the actor said. "And together it's like, 'It's on!' 


"Sorry, Middle America -- yeah, I said it."