Former Goddess Bree Olson: Charlie Sheen's A 'Rock Star' In Bed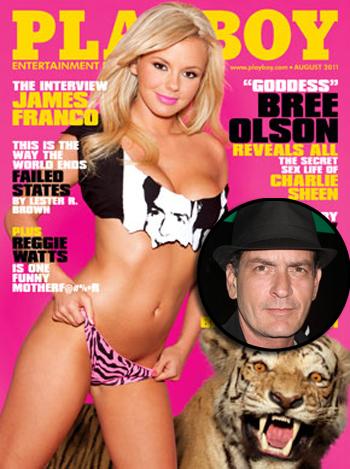 By Adam S. Levy - RadarOnline.com Staff Writer
As a veteran adult film actress with more than 200 titles under her belt, Charlie Sheen's former goddess Bree Olson has been to bed with some of the most skilled and genetically-gifted lovers in the world (or at least the San Fernando Valley).
So, how does the former Two and a Half Men star handle himself between the sheets?
"He's good in bed," Olson, 24, tells Playboy's August issue, in which she has her own 8-page spread. "I mean, he's had a lot of practice ... he's just a rock star. He's a powerhouse.
Article continues below advertisement
"He is a very sensual and sexual person, and when I was with him, I felt as if we became one together, because he's just so enticing sexually."
Olson, born Rachel Oberlin, gained national attention with Natalie Kenly as one of Sheen's two live-in lovers -- i.e., the goddesses -- during the actor's memorable self-proclaimed "media tsunami" earlier this year.
Olson, who is bisexual, admitted that she'd had a few threesomes with Sheen and Kenly, but they usually had sex with Sheen one-on-one, depending who he was in the mood for that night.
"We had two different beds," the blonde beauty said. "She and I would go to whichever bed, and he would pick. You know, 'Where am I sleeping tonight?'"
She said that she eventually left Sheen's side because he was preoccupied with his Live Nation road tour, and she was no longer comfortable with the arrangement.
"I'm still a goddess," she said. "I'm just not Charlie's goddess."
Earlier this year, Sheen told ABC News he finds himself drawn to adult film stars because "you already know what you're getting before you meet them."