Charlie Sheen - What's Up Doc?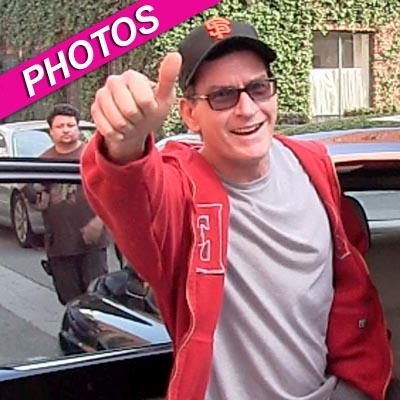 by RadarOnline.com Staff
WINNING!
Charlie Sheen has been keeping a low profile lately, but on Tuesday, the casually dressed actor was spotted outside of his doctor's office in Beverly Hills, CA.
Sheen was all smiles and gave a thumbs-up to photographers who snapped his picture.
This was the first time we've seen photos of the former Two and a Half Men star out-and-about since May 11.
The same day Charlie presumably went for a check-up, Comedy Central announced that Sheen would be the special guest of honor at one of its notorious roasts.
Article continues below advertisement
The roast will tape in Los Angeles on September 10 and will air on the network on September 19.
"You could say I've been providing kindling for this roast for a while," said Sheen, in a statement on Tuesday. "It's time to light it up. It's going to be epic."
"Charlie has assured us that nothing will be off limits in this Roast...which scares even us," said Kent Alterman, Comedy Central's head of original programming and production.
Something interesting to note: on September 19 - the very same night that Comedy Central airs its roast of Charlie Sheen-CBS will air the re-tooled Two and a Half Men with Ashton Kutcher making his first appearance on the hit sit-com.
The new 'Men' will air at 9 p.m. ET, while the Comedy Central Roast of Charlie Sheen begins at 10 pm ET.
RELATED STORIES:
Ashton Kutcher Targeting Advertisers In Twitter War Vs. Village Voice