Exclusive
Lindsay Lohan's Wild Life Captured In New Comic Book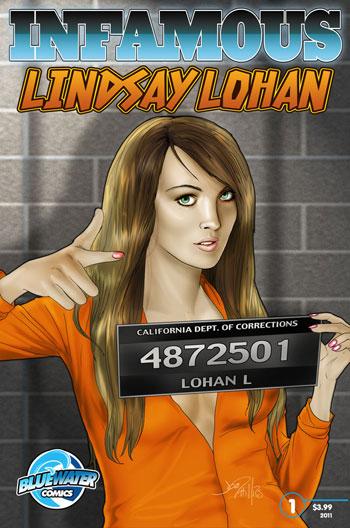 RadarOnline.com Staff Reporter
Lindsay Lohan's wild lifestyle, dysfunctional family and struggling career are being captured by Bluewater Productions in a new biographical comic book and RadarOnline has the cover!
The comic is titled Infamous: Lindsay Lohan and is set for a September 2011 release, but given the 24-year-old's latest legal shenanigans, there's still plenty to be added to the issue.
Article continues below advertisement
"Lohan is both a victim of the all-consuming celebrity culture and a perpetrator of bad decisions, lack of self-control and an unhealthy sense of entitlement," writer Marc Shapiro said.
"This issue can be seen as a tragedy in motion; it's last chapter has yet to be written."
According to Shapiro, the 32-page book is not all about the salacious headlines, mug shots and outrageous behavior, but tries to examine the underlying causes of Lohan's inability to "straighten out her life."
Are you reading this Lindsay Lohan? Bluewater Publishing has an offer for you.
"If Lohan contacted us right now and wanted us to donate some of the potential profits to a charity of her choosing, we would happily do so," publisher Darren G. Davis said.
Another face more famous for their off-screen exploits than anything else is Charlie Sheen, who also has a biographic comic book coming out in his likeness in July.