EXCLUSIVE: Charlie Sheen's Comic Book Ripped From The Pages Of RadarOnline.Com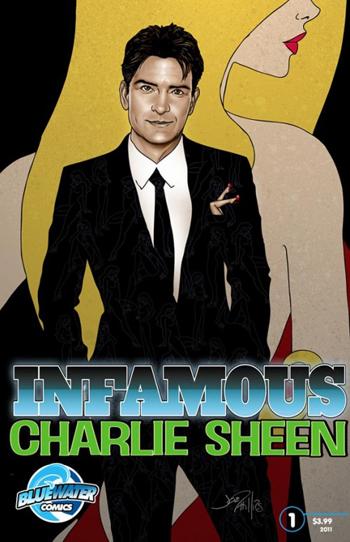 Charlie Sheen's new comic book biography has literally been ripped from the headlines of RadarOnline.com.
Bluewater Productions, which has made a name for itself in the comic book business, is launching a new 'Infamous' line that will open with the Charlie Sheen story.
Read The Script Of Charlie Sheen's Comic Book
In an exclusive sneak peak at the never-before-seen script, Charlie's story will open on the moment when RadarOnline.com captured video of Sheen's children being taken away from him.
Article continues below advertisement
"A knock on Charlie Sheen's door at 10 o'clock at night almost always means trouble," the caption reads.
The script goes on to describe the image which will be created of Charlie loading his two young sons into his estranged wife's car with 'menacing-looking' police officers standing nearby.
The leaked pages of the book, which is currently in production, will certainly cash in on Sheen's 'comic' genius.
The next image shows Sheen with his goddesses and the caption, 'Charlie gets to keep the nannies.'
Although he is not involved in the animated creation written by Marc Shapiro, it promises to cover all aspects of his life including his alleged drug use, his controversial relationship with Kelly Preston and his most recent trials and tribulations.
Bluewater Productions is famous for their biographical comic books and has already featured Justin Bieber, Lady Gaga and Betty White on their pages.