Exclusive
EXCLUSIVE: Oksana Grigoreiva's Lawyers Want To Question Mel Gibson's Dad & Estranged Wife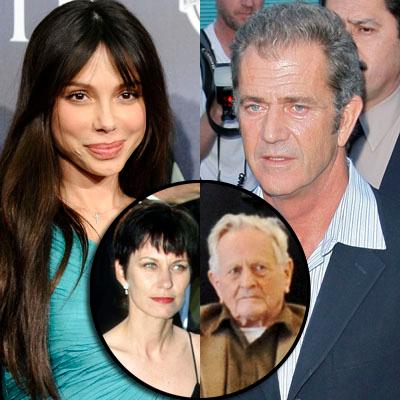 Lawyers for Oksana Grigorieva want to question Mel Gibson's controversial dad and his soon-to-be ex-wife Robyn under oath, RadarOnline.com has exclusively learned.
The pair is set to be served with subpoenas to appear before a deposition in Mel's child custody war with his baby mamma.
PHOTO: Mel Gibson's Lethal Stare - See The Mug Shot
Hutton Gibson -- an ultra-conservative Catholic who has made a series of racist rants and once declared Pope Benedict XVI is gay -- will be questioned about what Mel confided to his father about the Russian musician and what led to the pair's now infamous blow-up.
Article continues below advertisement
Oksana's lawyers will also attempt to determine if there was a motivation for Mel's alleged domestic violence toward women, RadarOnline.com has been told.
The Lethal Weapon star was married to Robyn Moore for 28 years before he dumped her for Oksana, 41.
Oksana's legal advisors want to probe Robyn about the sworn affidavit she submitted to a Los Angeles court stating Mel, 55, was never abusive to her nor his children.
But as RadarOnline.com first revealed, Oksana told cops Mel once admitted hurling a television at his wife.
"Mel was telling several times how he threw a TV into her (Robyn) once when they were arguing," one source claimed.
"Oksana said, 'Thank god he missed and the TV fell out a second story window.'"
Oksana also said she personally witnessed Mel hitting his youngest son Tommy in the head, while at a hockey game at Los Angele's Staples Center.
Article continues below advertisement
"Oksana told authorities about Mel's 'angry outbursts' toward his own family and friends," said a source, with knowledge of the case.
"Oksana has suggested Tommy was assaulted and her lawyers believe the child would have confided this in his mother."
EXCLUSIVE FIRST PHOTOS: The Injury To Oksana's Teeth
On March 11, Mel pleaded no contest to a misdemeanor battery on a spouse or cohabitant in the Los Angeles Superior Court, resulting from the incident with Grigorieva which she said knocked out her teeth and gave her a concussion.