PHOTOS & VIDEO: Britney Spears Bares Bod In City By The Bay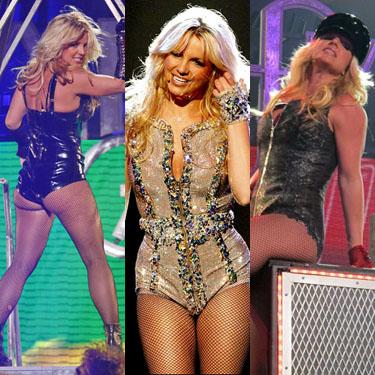 Whoever thought Britney Spears had lost it ... boy, were you ever wrong.
The 29-year-old Mississippi-born beauty, a mother-of-two, showed off her incredible figure -- particularly her derriere -- in front of 5,000 fans at San Francisco's Bill Graham Civic Auditorium on Sunday. Part of the event will be broadcast on Good Morning America Tuesday, as host Robin Roberts, fresh off her testy chat with Chris Brown, joined Spears onstage at one point.
Article continues below advertisement
The resurgent chart-topper changed costumes several times during the event, wearing luscious get-ups like a a silver sequined body-suit and a black leotard that accentuated her tremendous physique. She looked stunning in a series of outfits as she sang Hold It Against Me, Big Fat Bass, Till The World Ends.
The production was top-notch as well, as Brit's elaborate stage set up was enhanced by a firework finale that ended the show. The 29-year-old Toxic singer has hit the road in promotion of her upcoming album Femme Fatale, the follow-up to her 2008 smash-hit Circus.
Britney Spears and Jason Trawick Go Shopping In Maui
"The energy, the people, the dancing the music, Britney -- it was tremendous!" Roberts said following the set.
The sexy songbird tweeted about the great time she had in the city by the Bay following the Sunday show.
"Just wrapped GMA. I love love love you San Francisco! -Britney," she tweeted, later adding, "Leaving the Castro District. I wanted to see more but I could barely get out the car!!! I love you all SO much ... PS - Even my dad had a great time!"
Article continues below advertisement