PHOTOS: Relationship Revenge! How Hollywood Stars Look Good To Get Back At Their Ex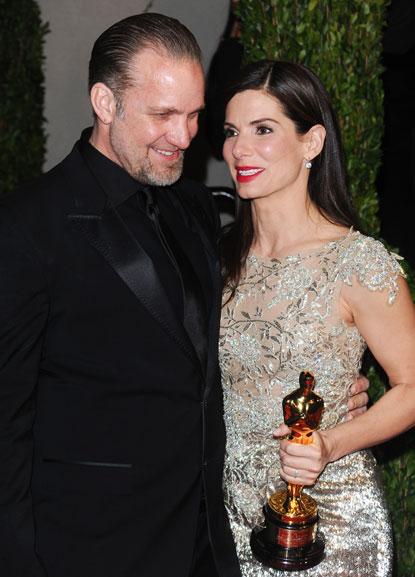 A tough break-up can certainly leave you feeling down, but instead of sitting on the couch in their track pants eating tub after tub of ice-cream, ala Bridget Jones, these stars realized that the best revenge isn't getting mad or sad -- it is getting gorgeous!
RadarOnline.com turned to stylist-to-the stars Colin Megaro, an expert at reinventing celebrities' images, to dish the secrets to looking good after a breakup.
Article continues below advertisement
"Sandra Bullock should be the poster child for relationship revenge," proclaims Megaro.
"After everything that happened, she came out in amazing style, looking trim, toned and terrific, glowing skin, flawless make-up, but most importantly, everywhere she goes she has her head held high and is oozing confidence."
Whether it was at the MTV Movie Awards -- where she wore a short, backless but long-sleeved black dress Oday Shakar -- or at the Teen Choice awards -- clad in a gray T-shirt and black leather pants, Bullock has managed to sparkle in her post relationship blues.
Kate Gosselin's Glamified Emmy Look! The Secret To Her Red Carpet Success
Kate Gosselin is no stranger to a nasty split. The reality show star mom suffered an extremely public breakup with the father of eight of her children, and still managed to come up on top, looking better than ever!
"Kate redid everything about herself, but in this case it's probably her skyrocketing fame and success that is the best revenge!'
Colin Megaro Dishes On Angelina's New "Maternal" Look
And what about Kelly Osbourne, who recently split from her fiancé model Luke Worrall, amidst rumors of cheating?
"Kelly is constantly transforming and reinventing herself, but she has outdone herself post break-up," Colin exclaims over Kelly's new bombshell look.
From Elin Nordegren "who should receive a medal for still having a smile on her face" to Demi Lovato and Robin Wright, who drastically dyed their locks post split -- see how these ladies got their revenge and got gorgeous, by checking out our gallery!