Camilla Gushes Over 'Lovely Girl' Kate Middleton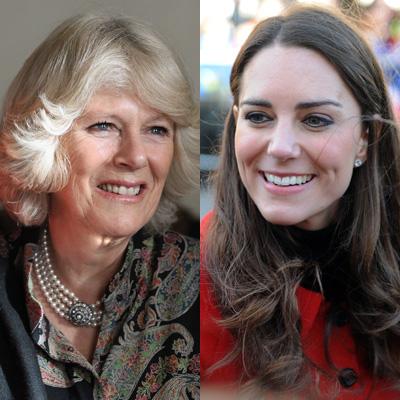 The Duchess of Cornwall has given a glowing endorsement to Prince William's bride-to-be Kate Middleton, calling her 'a lovely girl'' RadarOnline.com is reporting.
Prince Charles' wife Camilla has been mentoring her stepson's fiancée ahead of the Royal Wedding on Friday, April 29, in Great Britain.
The two women have become close friends as William and Kate's big day fast approaches with the eyes of the world upon them.
Article continues below advertisement
"Kate's a lovely girl," Camilla said, according to the UK's newspaper The Express.
"We're very lucky. I'm very much looking forward to the wedding."
One of the Duchess's granddaughters, Eliza Lopes, 3, is going to be a bridesmaid, and apparently the little girl is not fazed by the magnitude of the social event of the year.
Speaking to a group of students at the Covent Garden Academy of Flowers in London on Wednesday, Camilla said: "One of my granddaughters is a bridesmaid. She's only three, and it will be quite nerve-wracking for the little one. But she will enjoy it."
The Duchess and her soon-to-be stepdaughter-in-law to be were spotted at the Berkley Hotel in Knightsbridge recently with two other women chatting about the wedding plans.
PHOTOS & VIDEO: Prince William & Kate Middleton Return To Where They Fell In Love
An insider revealed: "All four women were talking away like mad and none of the waiters could get a word in edgeways to serve their lunch. Kate looked fantastic in a very short black skirt, black opaque tights, a short jacket and boots.
Article continues below advertisement
"I heard Camilla saying... if I can give you one bit of advice... Kate was really enjoying the moment.
"I did hear talk of trumpets and someone said 'we can't have trumpets, the ceiling is too high'' which may have been a reference to Westminster Abbey."
"There was one moment which was clearly meant to be amusing when Kate said what happens if William doesn't turn up? Someone else then asked 'is it going to be a sit-down lunch?'"
"They followed that with talk of menus. I heard chipolatas, sausages on sticks and mini pizzas, but I don't know whether it was ironic or not."
"They were all getting on very well and they clearly hadn't asked for an out-of-the-way table and nor did they attempt to lower their voices," the on-looker said.
Camilla joined Kate and her parents last week at the Royal Opera House for a performance of Alice's Adventures in Wonderland as she continues to bond with her new in-laws' prior to the glittering event.