PHOTOS: Royal Bombshell! Kate Middleton's Sexiest Looks Ever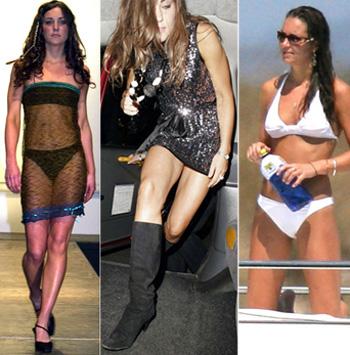 Kate Middleton is known for her classy and sophisticated sense of style, but the princess-to-be also has a sexy side! In honor of the impending royal nuptials, RadarOnline.com is bringing you photos of the future Queen of England showing off her hot body in everything from sexy lingerie and bikinis to formalwear and casual clothes. Click the next sentence to see Kate Middleton at her sexiest.
Prince William first fell for the beautiful brunette in 2002 when he was sitting front row at the University of St. Andrew's Fashion Show. Hitting the runway in a scandalously sheer dress, which exposed a black bra and panty set, Kate scored herself a new, royal beau.
Article continues below advertisement
Click Here To See Kate Modeling Lingerie On The Catwalk
Years later, the usually conservative Middleton was splashed all over the pages of Brit tabloids, when she hit a roller disco party dressed in impossibly sexy getup. Wearing a sheer, bright green sequin halter top with teeny tiny yellow shorts, pink legwarmers and thigh high boots, Kate let everyone know that she had one of the hottest bodies in the UK.
Click Here To See Kate Ravish In Sexy Roller Girl Style
Kate isn't afraid of hiked up hemlines! Though she usually opts for nearly knee-length skirts and dresses, every now and then Kate rocks a leggier look, stepping out in teeny tiny minis.
When it comes to regal assets, Kate usually keeps things undercover, but we caught the future royal looking smoking hot at a formal event in a lowcut, electric blue halter gown.
Article continues below advertisement
And everyone knows that Kate has one of the most banging bikini bodies on the beach! When the pretty princess in waiting stripped down into a skimpy, white bikini during a vacation in Ibiza with Prince William, she gave the Victoria's Secret Angels some stiff competition.
Click Here To See Kate Show Off Her Bombshell Bikini Bod
What other sexy looks has Kate rocked over the years? Click here to find out.