Exclusive
EXCLUSIVE: Kate Middleton 'Used Bad Girl Techniques' To Snag Prince William -- Says Author Carol Lieberman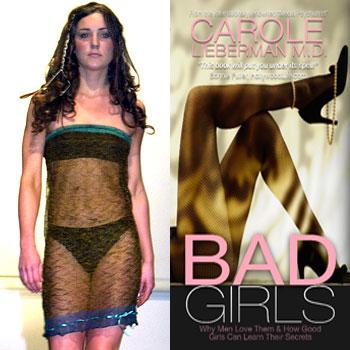 Prince William's fiancée Kate Middleton has won the hearts of millions around the world with her wholesome nature, natural beauty and charm, but according to author Carol Lieberman she won the heart of the future King of England by quite different means -- channeling her inner bad girl!
In an exclusive interview with RadarOnline.com, Leiberman, author of Bad Girls: Why Men Love Them & How Good Girls Can Learn Their Secrets reveals how the princess-to-be used some age old, tried and tested "bad girl techniques" to snag her handsome beau - including wearing a see-though dress, undergoing a complete physical makeover, working out to get a bangin' body and flirting with guys to make poor Wills crazy with jealousy.
Article continues below advertisement
"Kate is a good girl that used bad girl techniques to get her prince," Leiberman says. "I learned that when she was in university with the prince she was rated a 2 out of 10 by the boys, and that summer she decided to lose weight and do a complete make-over and when she came back to school the boys appreciated her a whole lot more.
"Then came the see-through dress! Kate wore it when she walked the catwalk in a fashion show and not surprisingly her mega-sexy get-up caught Prince William's eye. They started dating shortly afterwards, but he was kind of non-committal and spent a lot of time clubbing with his boys.
"So Kate gave as good as she got and made sure she was photographed out with other boys to make William jealous - and sure enough, eventually he came crawling back to her.
"It's almost as if Kate read my book, she followed every rule!
"My book talks about how good girls can use bad girl techniques to get their man," Leiberman explains. "I interviewed one hundred men to write this book and they shared their most intimate sexual and emotional experiences with me and I share those with my readers to help them snag their dream man."
Article continues below advertisement
Leiberman says that she was so impressed by Kate's techniques, especially her decision to strut her stuff in the now infamous sexy see-through frock that she plans to purchase the actual dress, when it goes to auction in London on Thursday!
"It's a beacon of hope for good girls everywhere who want to catch their prince," Leiberman says. "And that's why I want this dress so much, because it's a visual icon of what I am teaching in my book.
"I realize it is going for a lot but I'm willing to make that bid because I love what I can do with that dress, which is to give good girls hope they too will find their prince. I plan on bringing that dress on my travels when I speak to women"
Meanwhile, let's hope that for the sake of the royal family Kate leaves her inner "bad girl" at home when she walks down the aisle with Wills on April 29!
RELATED STORIES: