PHOTOS: Inside Westminster Abbey Where William And Kate Will Wed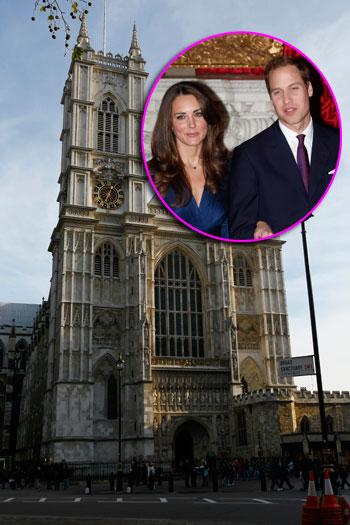 There is less than two months to go until Kate Middleton will walk down the aisle to marry her Prince Charming, and RadarOnline.com has newly released photos of the historic location where the royal wedding will take place.
William and Kate will tie the knot at Westminster Abbey in London, the same spot where William's uncle, Prince Andrew, married Sarah Ferguson in 1986.
The photos, released on the official royal wedding blog on Friday, show behind-the-scene shots of inside the Abbey.
Article continues below advertisement
Steeped in over a thousand years of royal history, the earliest origin of Westminster dates back to the 10th Century, with building of the present church beginning in 1245 by King Henry III. The Abbey has been the coronation church since 1066 and is the final resting place of seventeen monarchs.
The gallery of images reveal famous historical artifacts in the Abbey including the Coronation Chair, the elaborate stained glass West Window, the Shrine of St Edward the Confessor, and the Organ Console that will play wedding music.
The wedding service will begin at 11 am on April 29th and will be conducted by the Dean of Westminster, the Very Reverend Dr John Hall, with the Archbishop of Canterbury, the Most Reverend and Right Honorable Dr Rowan Williams, marrying the couple.
William and Kate recently took time away from their wedding plans to lend support to the New Zealand earthquake victims following the quake that devastated the Christchurch area of the British Commonwealth country.