PHOTOS & VIDEO: Prince William & Kate Middleton Return To Where They Fell In Love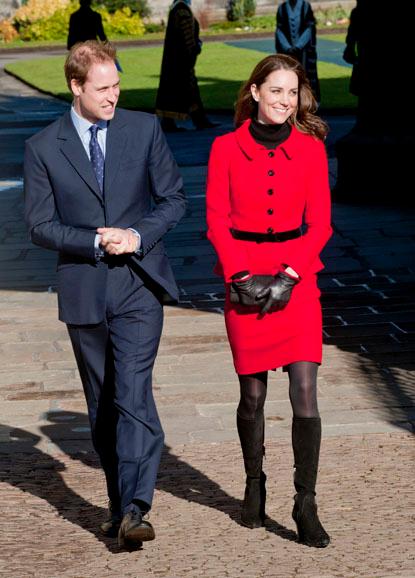 Prince William and fiancée Kate Middleton returned Friday to their alma mater -- the University of St. Andrews on the east coast of Scotland -- the place where they first met and fell in love, and RadarOnline.com has photos and video of their royal homecoming.
William and Kate met at the picturesque university in 2001 as undergraduates studying art history.
"This is a very special moment for Catherine and me," the prince -- who wore a dark blue suit -- said in a brief speech Friday. "It feels like coming home."
Article continues below advertisement
Middleton -- wearing a stylish red jacket with black belt and gloves -- then greeted hundreds of well-wishers who had lined the streets to see the couple.
The couple also toured their old Art History lecture hall and took a walk past the halls of residence where they both lived as freshmen in their student year of 2001-2002. At the end of the ceremony on the quad, some 3,000 well-wishers greeted them along North Street.
Their visit to the university was to help celebrate its 600th anniversary. In fact, William, second in line to the British throne, is patron of the 600th Anniversary Appeal which aims to raise 100 million pounds, or about $160 million, to secure the future of University of St. Andrews and fund scholarships making it accessible to all "regardless of background or circumstance."
William and Kate also received an early wedding present: a scholarship established by the college in their honor. The new scholarship, worth up to 70,000 pounds, or about $112,800, will meet the costs of tuition, accommodation and living expenses for a four-year undergraduate degree in science, the arts, medicine or divinity.
Article continues below advertisement
"We wish them a life of love, health and happiness," said principal Louise Richardson.
Later in the day, the couple will travel to London to sign a book of condolences at the New Zealand High Commission for those who lost their lives in the recent devastating earthquake there.
As a Commonwealth realm, William's grandmother Queen Elizabeth holds the symbolic position of New Zealand's monarch.
This was William and Kate's second official royal appearance together in the past two days. On Thursday, the couple helped name a lifeboat on the remote island of Anglesey in North Wales, where the couple lives part-time.
Middleton won rave reviews for that first royal engagement on Thursday, during which she gamely poured champagne on the lifeboat to christen it. "Kate's a Corker" was the headline in the Daily Mirror tabloid. "Glamorous Kate Middleton sparkled at her first official engagement," wrote its royal reporter Victoria Murphy.
Watch the video on RadarOnline.com.
William, 28, and Kate, 29, will tie the knot at London's famed Westminster Abbey on April 29.