PHOTOS: The World's Most Expensive Royal Weddings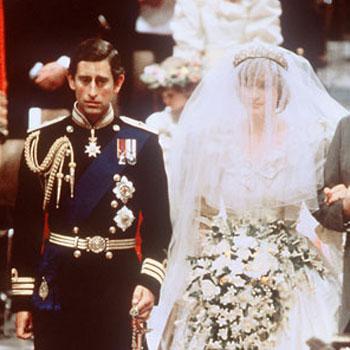 With an inherited engagement ring and a low-key honeymoon in the UK's Isles of Scilly, Prince William and Kate Middleton are trying to stick to a relatively 'tight' budget for their royal nuptials on April 29th, but other royal couples have broken the bank with their grand affairs over the years.
In a sharp contrast, Prince Charles and Lady Diana Spencer's $6.5 million wedding at St Paul's Cathedral reflected the over-spending of the opulent 80's. Di's now recycled sapphire and diamond engagement ring cost $65,000, while her dramatic David Emmanuel gown was made of silk taffeta and antique lace, with a 25-foot train.
Article continues below advertisement
And you can forget Texas, when it comes down to it, everything is much bigger in Dubai! Instead of a marquee, Sheikh Mohammed built a whole stadium for his 20,000 guests when he married his first cousin, Sheikha Hind Bint Maktoum, in 1979.
The wedding lasted a week during which the Sheikh rode his horse to every village to feed his countrymen. The whole shebang cost a total of $44.5 million, which would equate to a cool $100 million in today's terms.
When Prince Al-Muhtadee Billah, heir to the Sultan of Brunei, married his 17-year-old bride in 2004, the lavish ceremony cost an estimated $5 million and involved endless ceremonies to "showcase centuries of Bruneian tradition," reported luxury website MostExpensive.co
Royals and world leaders from around the globe flew to Brunei to watch the Sultan's eldest son walk down the aisle Sarah Pengiran Salleh at Nurul Iman Palace.
Article continues below advertisement
The Swedes are not normally thought to be big spenders but that didn't stop Crown Princess Victoria's family from splashing out when she married her former personal trainer, David Westling, in June 2010.
Costing a whopping $3 million, the fairytale wedding was watched by 250,000 citizens, while beautiful floral arrangements scattered the streets and Scandinavian furniture giants IKEA created a two-storey replica of the princess' castle in the city center.
Victoria's father, King Carl XVI Gustaf, was initially horrified that she was marrying her trainer, but dug deep into his pocket for the buff bride, who wore a gown by designer Par Engsheden, for what ended up being the most viewed royal wedding since Charles and Di's.
Greece's Crown Prince Pavlos chose to marry American heiress Marie-Chantal Miller in London in what was one of the most opulent ceremonies the city has ever seen. The $1.9 million bill included the cost of flying in Denmark's royal florist to decorate St Sophia's Cathedral with 30,000 pink garlands. The bride's gown alone cost $240,000 and was made of pearl-encrusted ivory silk, with a 15-foot Chantilly lace train.
Article continues below advertisement
William & Kate Planning Budget Honeymoon
In a fairy-tale wedding that turned into a heartbreak, actress Grace Kelly was swept off her feet by Prince Rainier III of Monaco and married her Prince Charming in an over the top event to which every adult in the small country was invited. In the end, 600 guests filled the St. Nicholas Cathedral, where white lilacs, hydrangeas, lilies and snapdragons adorned the alter.